Magical Night Mount Vernon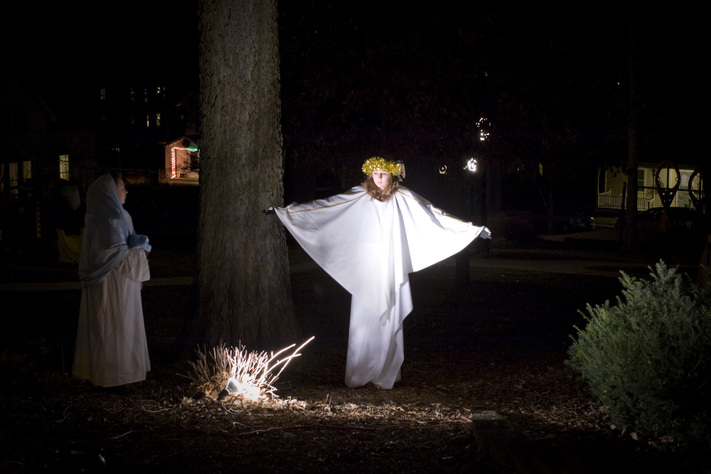 Event Description
Thursday, Dec. 5, marks Mount Vernon's annual Magical Night, a celebration of holiday magic that begins on the lawn of the First Street Community Center, 221 First St. NE. Volunteers from the Mount Vernon-Lisbon Community Development Group (CDG) have teamed with the City of Mount Vernon to celebrate the holiday season. At 5 p.m. on Dec. 5, Santa himself will be throwing the switch unveiling Mount Vernon's holiday lights.
This will be followed by a wide range of events along Mount Vernon's historic First Street that will include visits and photos with Santa in the Mount Vernon Bank & Trust building, a Holiday Craft Bazaar in the basement of City Hall, a Vendor and Art Fair at Mount Vernon Creates, a Live Nativity at Memorial Park and live music and activities in almost every Uptown building.
Mount Vernon's historic 1st Street will once again be closed to traffic to create a Holiday-inspired Ped Mall for the entire festival from 5 to 8 p.m.
A shuttle provided by Mount Vernon Community Schools will be going back and forth along 4th Avenue, taking guests from the parking lots at the Mount Vernon Community School District to the United Methodist Church and back. The shuttle will run continuously from 5 to 8 p.m.
Trolley rides sponsored by St. Paul's Lutheran Church, will run from 5 to 8 p.m. connecting all activities along first street.
Returning this year will be the International and Multicultural Holiday Celebration at Cornell College's Stoner House, sponsored by the Office of Intercultural Life, and the growing series of animatronic window displays in several area businesses. Also returning is a trackless train that will be running from the parking lot of Iowa Physical Therapy, 108 1st St. SE.