Book Club: Liar, Liar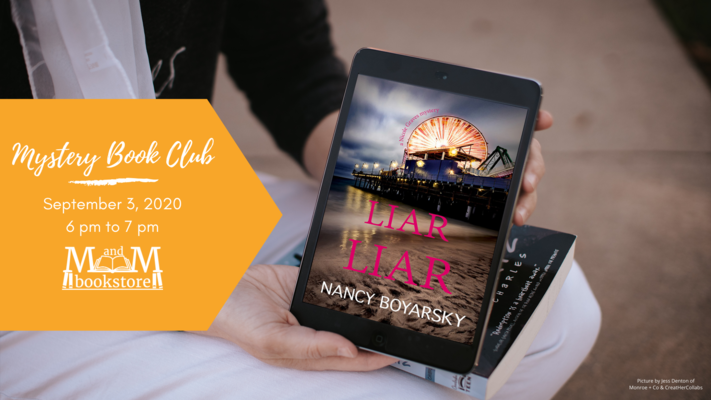 Event Description
The truth is elusive in Liar Liar.
"Tough and likeable" (Foreword Reviews) Nicole Graves finds herself in the crosshairs when she reluctantly agrees to babysit a witness in a high-profile rape trial. Mary Ellen Barnes is suing her university's star quarterback for rape when the authorities won't act. In the court of public opinion, Mary Ellen appears to be the quintessential, pious, good girl. But her lies and mysterious comings and goings lead Nicole to suspect that she's not what she seems.
It isn't just Mary Ellen who's acting suspiciously. No one wants to own up to the truth in Liar Liar, not even Nicole, whose fiance; begs her not to look into the case. But when the witness goes missing during the trial, Nicole is caught up in a tangle of lies that turns deadly. After the investigator assigned to the case fails to do his job, Nicole is determined to find the killer on her own, no matter the risks.
Nancy was born in Oakland, California, and grew up with her parents and two sisters in the flatlands of East Oakland. When she was around eight—in a world that was a lot safer that today—she was allowed to roam the neighborhood by herself, and her visits to the tiny Alandale Public Library were the highlight of her week.
She attended public schools in Oakland. Her father opposed the idea of sending girls to college, being of the opinion that they would be better off working as waitresses to prepare them for their life's work as housewives. Nancy ignored his advice and went on to UC Berkeley, where she supported herself by working in the campus library. In addition to the pleasure of working around books, the job had an added benefit of allowing student clerks to disappear into the stacks and read when work was slow. Nancy majored in English literature and graduated from Berkeley with honors.
Her first job was as an associate editor for a small, long-vanished publishing house in San Francisco. When her two daughters were born, she stayed home and began writing freelance articles for a local paper, as well as teaming up with her husband, Bill Boyarsky, on magazine articles. They lived in Sacramento for ten years, while her husband covered the state capital and political campaigns for the Associated Press.
The family moved to Los Angeles when Bill joined the staff of the Los Angeles Times. When her girls were in their teens, Nancy gave up freelancing and returned to full-time work, first as associate editor of Los Angeles Lawyer magazine and later as communications director for political affairs for ARCO. She quit ARCO when the first of her two granddaughters was born. Since then, she has devoted herself to writing and editing. Her primary hobby is painting portraits and images from old family photos dating from the early 1900s. She loves reading fiction, the theater, films, and travel, especially to the UK where the theater and books are a national passion.
Nancy Boyarsky coauthored Backroom Politics, a New York Times notable book, with her husband. She has written several textbooks on the justice system and contributed to political anthologies, including In the Running, about women's political campaigns and The Challenge of California by the late Eugene Lee. She has also written articles on a variety of subjects for the Los Angeles Times, West magazine, Forbes, McCalls, Playgirl, Westways and other publications.
She is currently working on another mystery featuring Nicole, as well as Family Recipes for Gastroenteritis, a tragicomic memoir of growing up in Oakland in a family at the far end of disfunctionality.
She lives in Los Angeles with her journalist husband, Bill Boyarsky.