Wheel Try It at ICCGS! Learn to work on a Ceramic Wheel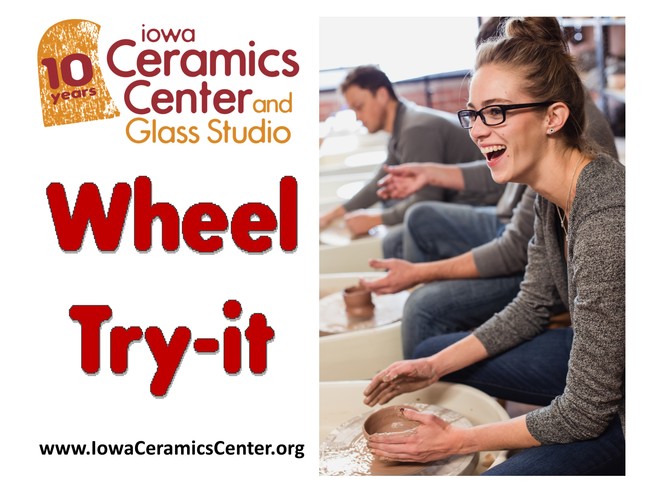 2020-11-07 13:00:00 -0600
Details

11/07/20
10:30 a.m. to 1 p.m. -
$35.0
Ages 9+
Categories

Educational
Educational
Event Description
Wheel Try It at ICCGS! Learn to work on a Ceramic Wheel.
We hold one Saturday Workshop a month that runs from 10:30 am - 1:00 pm
Cost is $35 a person.
This is a 2.5 hour wheel throwing workshop. In this class, we will assist you in learning how to center the clay on the wheel and how to create cups and bowls, with in-depth demonstrations. This class is more about the process of working with the wheel than a specific project. Great for kids and adults who are interested in developing a set of skills for working with clay. Each participant will complete at least 1-2 cups or bowls.
This class is all about the experience and learning how to work with the pottery wheel. This is a great way for kids and parents alike who are interested in working with clay to experience it firsthand. Minimum age is 9 years old. All skill levels welcome.
Pre-Registration online is required for classes and most workshops. Kids ages 8 and under MUST be accompanied by an adult. Students' work will be available for pickup 3 weeks after the end of their session/workshop. Please note that you will not be emailed or called to pick up your work. All remaining projects will be discarded after 60 days.
What to wear: Students must wear closed toed shoes for safety and ceramic wheel students should wear clothes they do not mind getting messy.
Cancellation policy: ICCGS reserves the right to cancel sessions due to the minimum enrollment not being met. In that event, participants will be notified and refunds will be given. Participants may cancel their session for a full refund, minus $5.00 for processing fees 72 hours/ 3 days before the class/workshop begins. You may email us at info@iowaCeramicsCenter.org about your cancellation. If a student contacts us after the 72-hour deadline, a refund will not be provided.
All classes and workshops are held at: Iowa Ceramics Center and Glass Studio, located in the NewBo district in the Cherry Building at 329 10th Avenue Southeast in Cedar Rapids, Iowa. The center is located on the first floor in Suite 117
Iowa Ceramics Center and Glass Studio (ICCGS) is organized and operated by the non-profit Iowa Artworks Inc. We are supported by earned income, grants, private contributions and memberships. Our mission is to promote understanding, appreciation, and professional development in ceramic and glass arts. We are dedicated to providing a place where creativity and community meet.