Spring Break Daily Art Workshops at ICCGS!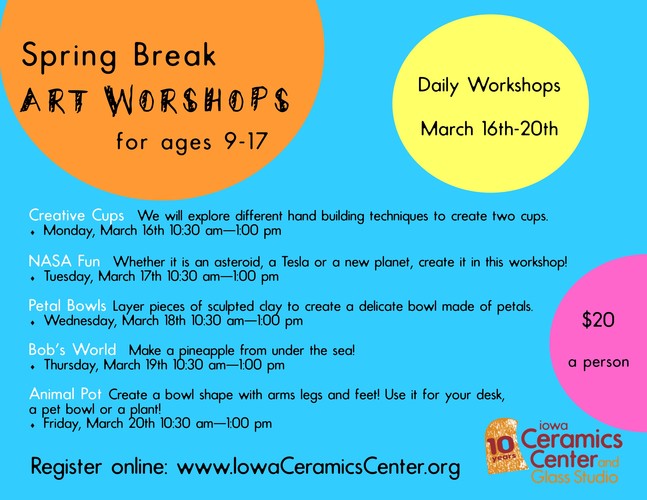 2020-03-20 12:00:00 -0500
Details

3/20/20
10:30 a.m. - 12 p.m.
$20.0
Ages 9–17
Categories

Educational
Educational
Event Description
Spring Break Kids Workshops! Drop off your kiddos with us for one-day extended workshop during their Spring Break week, and let's create something fun! For ages 9--17! Cost: $20.00/workshop per person.
Monday, March 16th @ 10:30 am - 12:00 pm
Creative Cups: We will explore different hand building techniques to create two cups.
Tuesday, March 17 @ 10:30 am - 12:00 pm
NASA Fun–whether it is an asteroid, a Tesla or a new planet, create it in this workshop!
Wednesday, March 18 @ 10:30 am - 12:00 pm
Petal Bowls—Layer pieces of sculpted clay to create a delicate bowl made of petals.
Thursday, March 19 @ 10:30 am - 12:00 pm
Bob's World–Make a pineapple from under the sea!
Friday March 20 @ 10:30 am - 12:00 pm
Animal Pot–Create a bowl shape with arms legs and feet! Use it for your desk, a pet bowl or a plant!
We have provided art education for over 10 years through our Spring Break and Summer Camp Programs. Pre-registration is required as spaces are limited, register online early to secure your child's spot!
For security, parents/caregivers must sign in their child at drop off (beginning at 10:20 am), and then sign them out when they are picked up at 12pm. If someone other than a parent will be dropping off/picking up their child, please let the office know before camp begins.
Students' work will be available for pickup 3 weeks after the end of their session/workshop. Please note that you will not be emailed or called to pick up your work. All remaining projects will be discarded after 60 days.
What to wear: Students must wear closed toed shoes for safety and should wear clothes they do not mind getting messy.
Cancellation policy: ICCGS reserves the right to cancel sessions due to the minimum enrollment not being met. In that event, participants will be notified and refunds will be given. Participants may cancel their session for a full refund, minus $5.00 for processing fees 72 hours/ 3 days before the class/workshop begins. You may email us at info@iowaCeramicsCenter.org about your cancellation. If a parent contacts us after the 72-hour deadline, a refund will not be provided.
All classes and workshops are held at: Iowa Ceramics Center and Glass Studio, located in the NewBo district in the Cherry Building at 329 10th Avenue Southeast in Cedar Rapids, Iowa. The center is located on the first floor in Suite 117.