Digital Minimalism discussion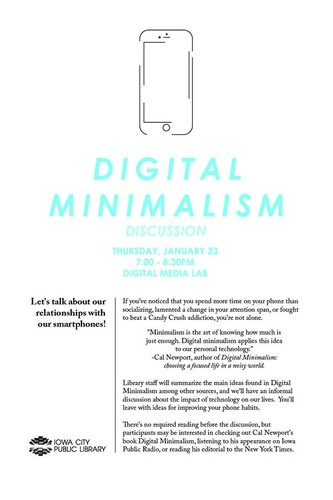 Event Description
Let's talk about our relationships with our smartphones! If you've noticed that you spend more time on your phone than socializing, lamented a change in your attention span, or fought to beat a Candy Crush addiction, you're not alone.
"Minimalism is the art of knowing how much is just enough. Digital minimalism applies this idea to our personal technology," according to Cal Newport, author of Digital Minimalism: choosing a focused life in a noisy world.
Library staff will summarize the main ideas found in Digital Minimalism among other sources, and we'll have an informal discussion about the impact of technology on our lives. You'll leave with ideas for improving your phone habits.
There's no required reading before the discussion, but participants may be interested in checking out Cal Newport's book Digital Minimalism, listening to his appearance on Iowa Public Radio, or reading his editorial to the New York Times. There are many other people writing on this topic, too, so feel free to bring ideas from other sources to share.
Registration is optional. Join us for a potentially life-changing talk!