30th Annual League of Women Voters CR State of the City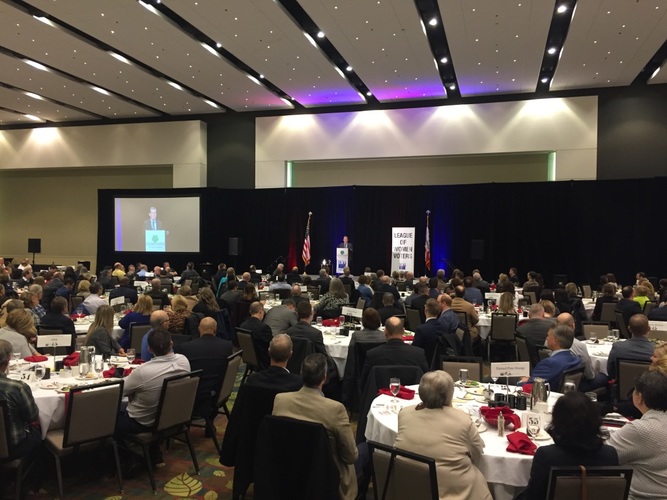 2020-02-03 13:00:00 -0600
Details

2/26/20
11:30 a.m. - 1 p.m.
$0 – $40
All Ages
Categories

Government/Politics
Community
Event Description
In the 100th Birthday year of the national League of Women Voters, the Linn County League of Women Voters is proud to continue the work of providing education and information to voters with the sponsorship of the 30th annual Cedar Rapids State of the City Wednesday, February 26. Cedar Rapids Mayor Brad Hart will give his assessment of the condition of the city at the luncheon and presentation which will be from 11:30 a.m. to 1 p.m. the Hilton Doubletree Hotel.
Following the mayor's presentation members of the audience are encouraged to ask the mayor questions regarding his remarks and other city issues. There is a charge for the meal, but the presentation is open to the public and free seating is reserved for individuals who want to attend only for the program. No reservation is necessary for those not wishing to eat.
All reservations must be made by February 20. Reservations for lunch are $40 per person and $400 for a table for ten. Luncheon reservations may be made online at http://lwvlinncounty.org/ main page; online processing fees apply. You also may mail a check by February 17 to LWV Linn County, PO Box 2422, CR, IA 52406-2422. Advance payment or your email payment receipt serve as your reservation confirmation. Companies wishing to pay by invoice should contact Dawn Jones at dawn.lwvlc@gmail.com. If you or someone at your table has a food allergy, please also email Dawn Jones.
Last year the event was at capacity; tables of ten cannot be guaranteed near the reservation deadline. Please consider a sponsorship if you are purchasing a table of ten. Funds raised by Cedar Rapids State of the City are used to help the League cover the cost of nonpartisan voter-education materials and forums.
The League of Women Voters of Linn County is a non-profit volunteer political organization which encourages citizen participation in government and does not endorse any candidates or political parties. Membership is open to any citizen 16 years and older.
###