"Bayard Rustin: The Man Behind the Dream" - A Dinner & Concert Fundraiser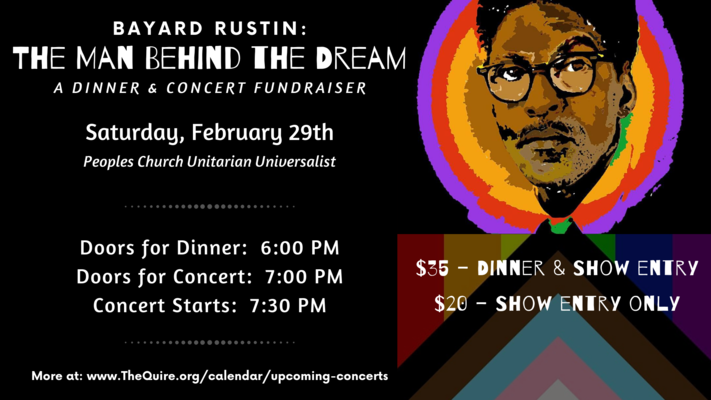 2020-02-10 21:00:00 -0600
Details

2/29/20
6 - 9 p.m.
$20 – $35
All Ages
Categories

Music
Fundraiser/Benefit
Event Description
Dr. Martin Luther King Jr.'s shadow looms large--so large that the names of some of his close colleagues in the civil rights movement remain unheralded. Bayard Rustin is not a household name today, but he was the organizer of the 1963 March on Washington, among his long and broad lifetime of activism for the rights of people in all walks of life. In addition to his work as an activist, Rustin was a musician, an art collector and an athlete -- all elements which describe a man who was shunned for another characteristic: his sexuality.

In an evening celebrating this monumental figure, The Quire invites the community to join us for dinner before the show, and then stay to hear the story of Bayard Rustin as told in this recently commissioned work.

$35 - Dinner & Show entry | $20 - Show entry only

DINNER SERVICE:
Starters: Vegetable Soup; House Salad with Vinaigrette
Main Course: Handmade Ravioli, filled with Ricotta+Parmesan and Butternut Squash+Sage, served with a House-made Vegetarian Ragù, with a side of Tartine (sourdough) Baguettes & butter
Dessert: Italian Coconut Cream Cake with Toasted Coconut
Drinks: Coffee (regular and decaf), Iced Tea, and Juiced Punch

Tickets available through the link on this event, or at https://thequire.org/calendar/upcoming-concerts/

If you are unable to attend on this date, we invite you to Bayard Rustin: The Man Behind the Dream in our Iowa City performance of this marvelous work.

If you wish to support this program or work like this, but are unable to attend, we invite you to visit www.thequire.org/support for ways to support this meaningful work as The Quire celebrates 25 years of music.