Still Rising: Celebrating 10 Years of the Iowa City Civil Rights Trip, A film by Jack Brooks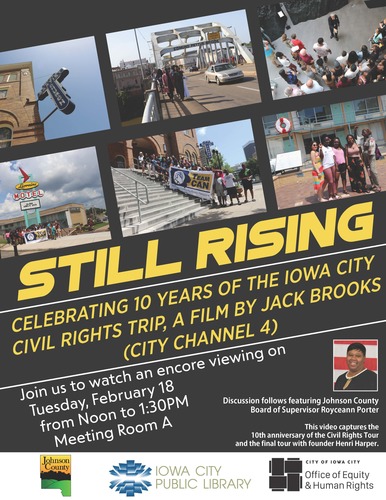 Event Description
Still Rising: Celebrating 10 Years of the Iowa City Civil Rights Trip , A film by Jack Brooks (City Channel 4)
For more than a decade, a group of Iowa City students have taken a trip to the South to learn about our nation's checkered past when it comes to racial equality.
Learn about the origins of this tour to important sites from the Civil Rights Movement, along with visits to Historically Black Colleges and Universities. From humble beginnings, the Civil Rights Trip has now impacted more than 600 students since its inception.
"Still Rising" was made by Jack Brooks, who serves as a Media Production Specialist for the City of Iowa City. He traveled on the 2018 trip to capture the 10th anniversary and final year with the trip's founder, Henri Harper.
Join us for a viewing at noon on Tuesday, February 18, 2020 at the Iowa City Public Library's Meeting Room A. Discussion following the screening will be led by Johnson County Board of Supervisor Royceann Porter.
Sponsored by The City of Iowa City Office of Equity & Human Rights and the Iowa City Public Library.