CANCELLED - Celebration of Freedom Fireworks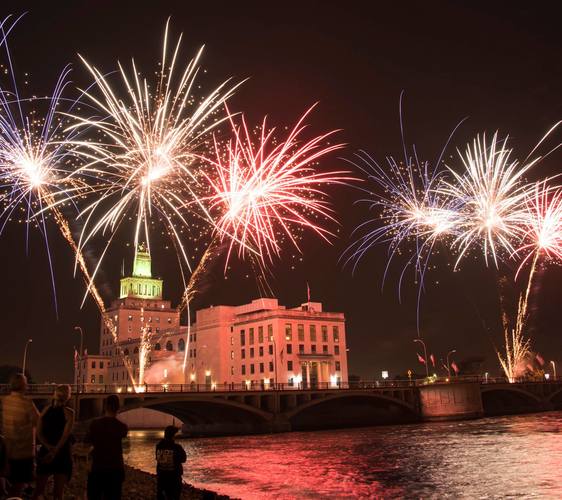 Event Description
Come downtown Cedar Rapids for the Freedom Festival's Celebration of Freedom! Please celebrate with us in the heart of our city. Don't forget to stop by the McGrath Amphitheatre and enjoy the Freedom Festival concert for FREE--with your Freedom Festival button!

The 4th of July is what the whole Festival is based around. We have an immense amount of pride for this country. With that in mind, we set out to make sure we could get the very best fireworks show possible.
The Freedom Festival has grown to offer the Corridor the largest fireworks display in Iowa on the 4th of July! Sit back and enjoy music for all ages, while we put on the show of the year. The fireworks show will start at approximately 9:45pm.
*Due to construction on the 3rd Avenue Bridge, the Celebration of Freedom will be held on the 2nd Avenue Bridge only*
Thank you to J&M Displays, Inc. for choreographing this show!

We will be offering activities on the 2nd Avenue bridge. A Freedom Festival button is REQUIRED for access to the bridge.
Buttons are $5 and can be purchased at Hy-Vee's, Casey's, and the U.S. Cellular Center Box Office or at the entrance gates. Children 8 and under do not require a button. **Cash only for button purchase at the gates**

Activities on the bridges include: Face Painting, Balloon Artist, lots of delicious food and beverages, music, Bungee Trampolines, Inflatable Zone for all ages, and so much more!