Facebook Live: Establish a Pollinator Garden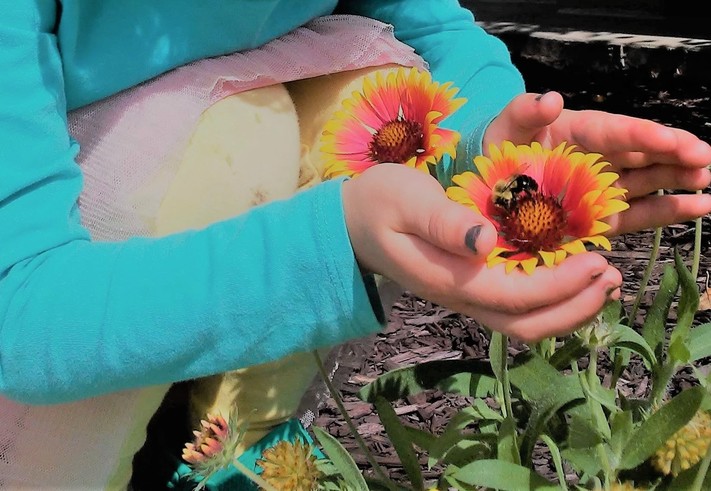 2020-04-06 14:30:00 -0500
Details

5/02/20
1 - 2:30 p.m.
Free
All Ages
Categories

Educational
Educational
Event Description
Learn to support your buzzing friends from the safety of your home. Tune in for a Facebook Live chat with Fred Meyer of Backyard Abundance.
You will learn...
* How to create an ever-blooming garden that attracts pollinators, monarchs and birds.
* How to properly establish prairie plants
* The pros and cons of planting seeds versus plants
Lidija Stojanovic of Bur Oak Land Trust will teach you about a family friendly activity. Keep your cooped up kids engaged while they learn about pollinators.
Phil Ricks of Beautiful Land Products, who has grown many of the plants for the Creekside Pollinator Garden, will offer inspiring and detailed advice on how to select and grow pollinator plants.

Molly Schintler of Echollective Farm will discuss how to support a mutually beneficial relationship between fruit and vegetable crops and pollinators. She will coach growers on specific practices to care for the soil, the pollinators, the crops and the people, as practiced at Echollective Farm.

Jon Yagla of The Millet Seed Farm CSA will share his enthusiasm for eating weeds, and provide advice on the best plants to grow for resilience. Jon will share his hope and courage as we recognize our interconnectedness with each other and all living things.

All three growers will provide information on how to safely purchase their products, including plant starts of vegetables, herbs, flowers and pollinator plants. For more information on this check out Curbside Plant Sales.

QUESTIONS? COMMENTS?
Join the educational streaming chat to post questions before and during the event.

SOCIAL-DISTANCED GARDEN COMMUNITY
Please join from home - we aim to keep the event to 5 or fewer people, all staying 8'+ apart. Visit the garden afterward to see what was done and enjoy the space.
Stay tuned for more virtual events throughout the season. Visit our Facebook Event page to learn more.

NATIVE PLANTS
These plants make up the ever-blooming garden and will be discussed during the event.
Anise Hyssop (25)
Bee Balm (25)
Butterfly Weed (25)
Sullivant's Milkweed (25)
Lupine (25)
Purple Coneflower (25)
Sky Blue Aster (25)
Wild Columbine (25)
Wild Strawberry (25)
Prairie Dropseed (54)
Little Bluestem (54)
LEARN MORE
View the Creekside Park Edible Forest design: www.backyardabundance.org/commgardens
Check out our free, online publications: www.backyardabundance.org/resources
CREEKSIDE GARDENERS
Many thanks to the Creekside Gardeners and the Creekside Neighborhood Association. Their generous time and energy laid the groundwork for this gardening project.

SPONSORS AND PARTNERS
This project was created in conjunction with the Iowa City Parks and Recreation Department and would not be possible without these sponsors and supporters. Please frequent these generous organizations to thank them for donations of materials and funds.
* Iowa City Parks and Recreation Department: www.icgov.org/?id=1082
* Bur Oak Land Trust: www.buroaklandtrust.org
* Hills Bank: hillsbank.com
* Collins Aerospace: www.rockwellcollins.com
* Earl May Garden Center: www.earlmay.com/locations/iowa-city-iowa
* New Pioneer Food Co-op: www.NewPi.coop
* Iowa City Climate Action: www.icgov.org/project/climate-action
* #FeedABee: www.feedabee.com
* Rapids Reproductions: rapidsrepro.com
* Green Iowa AmeriCorps - Energy & Community: www.greeniowaamericorps.org