Curbside Plant Sales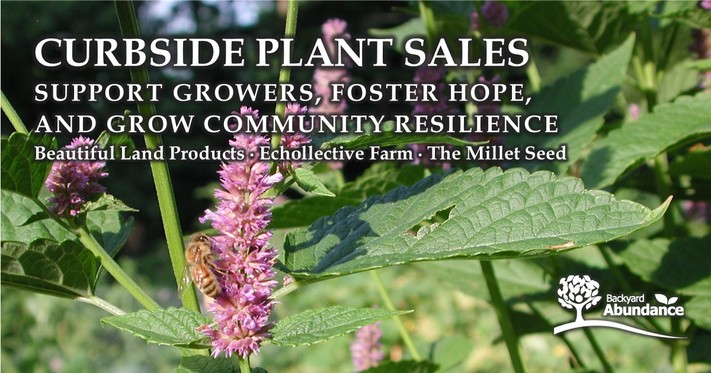 2020-05-26 17:00:00 -0500
Details

5/26/20
9 a.m. - 5 p.m.
Free
All Ages
Categories

Community
Community
Event Description
Due the pandemic and the importance of social distancing, our annual Edible Plant Sale Fundraiser has been cancelled.

We still want local growers to thrive, so Backyard Abundance is helping them sell plants safely from the yards of their residential homes.

Gardeners will get the plants they need. Growers will be compensated for their amazing work. We will do this safely and mindfully. Our community will benefit by growing hope and a more resilient food system.

THE GROWERS
• Beautiful Land Products provides native pollinator plants, professional grade germination and growing mixes, plus a full line of soil amendments and horticultural supplies.

HOW TO SHOP
To purchase local, organic plants directly from growers, please visit https://www.backyardabundance.org/plantsale

EXPERT ADVICE
One of the many aspects of the annual plant sale that will be sorely missed by all is the opportunity to seek and share advice. While it won't be exactly the same, we encourage you to tune in for our virtual programming, It's free, full of gardening advice, and connects you to your gardening community:

Garden Guru at the Edible Classroom
Garden Guru at Creekside Park Edible Forest
Garden Guru at Wetherby Park Edible Forest

SAMPLE GARDEN PLANS
Get ideas for your garden using these design examples that show patches of self-supporting edibles: https://www.backyardabundance.org/resources

We hope that you find an abundance of wellness, wisdom, and peace while digging in the soil.