Oral Histories LIVE! Featuring Al Pierson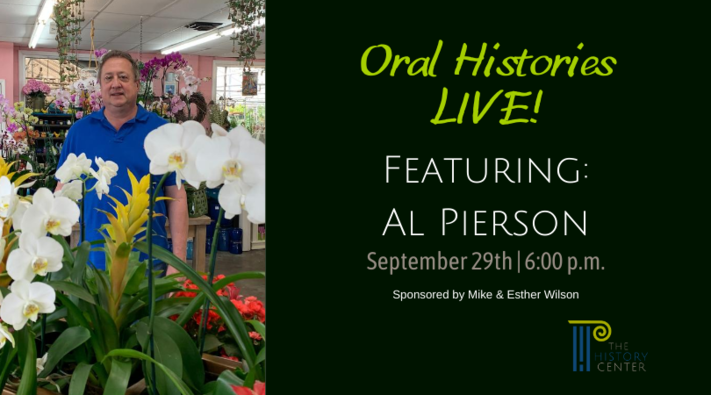 Event Description
Join us September 29th at 6:00 p.m. for Oral Histories LIVE!

Al Pierson was born and raised in NW Cedar Rapids. He has a BBA from the University of Iowa Marketing & Finance and is the Co-Owner Pierson's Flower Shop & Greenhouses. He is the Past President for the Society of Iowa Florists, the Past Director of FTD and is a Board member for the Neighborhood Development Corporation. He is the current President of the Northwest Neighbors Neighborhood Association and a Committee Member for Westside Rising Memorial.

This is an outdoor event. To practice safe social distancing, seating will be designated in 8 x 8 foot squares to allow for 6 feet distance between each party. Maximum of 4 individuals per party. Please purchase your tickets as a group to be assigned the same seating area. This is event is limited to 14 parties. Face masks are required.

Please bring a lawn chair. Seating is not provided. Food and drink welcome. Soft drinks and water will be available for purchase.

General Admission $7.00
Members of The History Center $5.00

This event is sponsored by: Mike & Esther Wilson.