Oral Histories LIVE! Featuring Nick AbouAssaly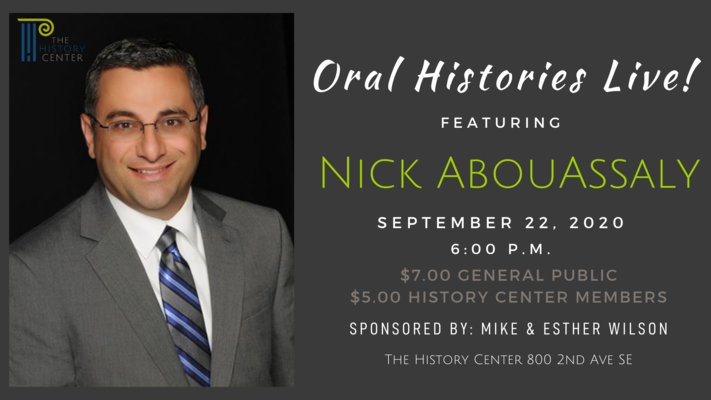 Event Description
The History Center invites the community to join in on ORAL HISTORIES LIVE! offering interviews with influential members of Linn County who share their stories and preserve legacies. Join us Tuesday, September 22nd at 6:00 p.m. as we interview Nick AbouAssaly.
Mayor Nick served on the Marion City Council for 2 ½ years before his election to the office of Mayor in November 2015. He began his second mayoral term on January 1, 2020.
Mayor Nick is a 29-year attorney and a partner with the law firm of Simmons Perrine Moyer Bergman, where he heads the real estate law department. He is included on the lists of Best Lawyers in America® and Great Plains Super Lawyers.
He has been on the Corridor Business Journal's list of most influential people in the Corridor for three consecutive years, topping the list in 2018, and was the 2019 recipient of the National Council on Youth Leadership's Visionary Youth Leadership Award.
He is an advocate for progress in Marion and the region.
Doors open 5:30 p.m.
Program starts at 6:00 p.m.
Admission $7.00 General Public
$5.00 for History Center Members
Oral Histories LIVE! is generously sponsored by Mike & Esther Wilson.