SHENANIGANS: Animals in Charge! A Drive-in Theatre Experience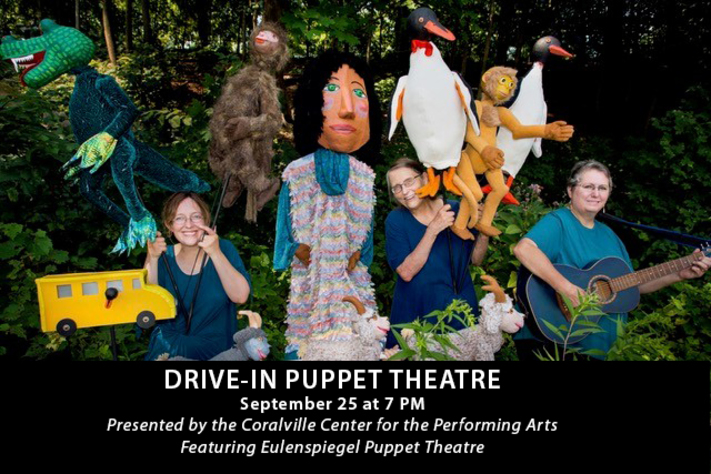 Event Description
Enjoy an evening of drive-in theatre with Shenanigans: Animals in Charge! The show opens with a parade-size Mother Earth as she introduces us to the zany antics of animals exploring venues that, under normal circumstances, humans dominate. But, as people around the world suspend their normal activities in the face of a world-wide pandemic, the animals take charge! The show transitions from large rod puppets in the early evening, to shadow puppets as the sun sets. From start to finish the puppets are accompanied by live music with original songs written just for this show.
Your family can enjoy this show from the comfort of your car at the Aquatics Center parking lot, located behind City Hall. Show sound will be broadcast to your car radio. Parking spaces are very limited, so make your reservation now! Free-will donations are welcome at the event, or as an online donation.
Audience members may get out of their cars to watch the performances as long as they remain in their designated parking space. Each group will be socially distanced from other patrons, and are required to wear a face mask if they exit their vehicle.
To make your reservation, or if you have any additional questions, contact Patrons Services Supervisor Nancy Mayfield at 319-248-9372, nmayfield@coralville.org.
The creation and performance of this fun, mad-cap tale is made possible through a generous grant from the Roy J. Carver Charitable Trust.