UI Theatre presents Ghost Limb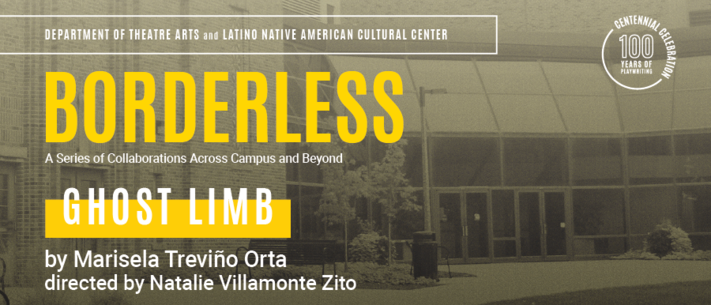 Event Description
Ghost Limb
By Marisela Treviño Orta
Directed by Natalie Villamonte Zito
Sunday, October 4 at 4:00 p.m. CST
Consuelo's son, Javier - an artist and activist - is forcibly disappeared by the military dictatorship of Argentina in 1977. She now must race to find him. Marisela Treviño Orta's haunting play Ghost Limb draws upon the myth of Persephone and Demeter to call forth the story of the lives of those destroyed by the Dirty War.
This piece includes violent descriptions of war and torture.
Watch the Performance Online
The virtual performance of this work will take place on Sunday, October 4 at 4:00 p.m. CST.
A link to view the performance will be made available on the department's website at theatre.uiowa.edu performance date.
Ghost Limb is being presented as part of the Borderless series. This virtual play reading will be followed by a post-show discussion in celebration of Latinx Heritage Month. This event is being presented in collaboration with the Latino Native American Cultural Center.
Borderless is a series curated by the University of Iowa Department of Theatre Arts dedicated to producing an array of theatrical works by playwrights representative of the diversity of experiences essential for students, faculty, administrators, and greater Iowa City community members to encounter onstage. As a predominantly-white institution (PWI), this initiative emerged in spring 2020 under the name "Diverse Voices" and has been renamed Borderless in the fall of 2020 to more clearly embrace its essential pillar: collaboration. We're dedicated to working beyond the walls of the Theatre Building and permeating borders between university departments, across campus, and to the professional theatre world.
Ghost Limb is part of the series Art and the Pursuit of Justice. Click here for a complete listing of other events in the series.
This event is free and will be presented online.
All performance dates are subject to change. Please visit our website at theatre.uiowa.edu for the most up-to-date information.
Individuals with disabilities are encouraged to attend all University of Iowa-sponsored events. If you are a person with a disability who requires a reasonable accommodation in order to participate in this program, please contact the Department of Theatre Arts in advance at 319-335-2700.