UI Theatre presents 6 by 6: Collected Perspectives on Social Justice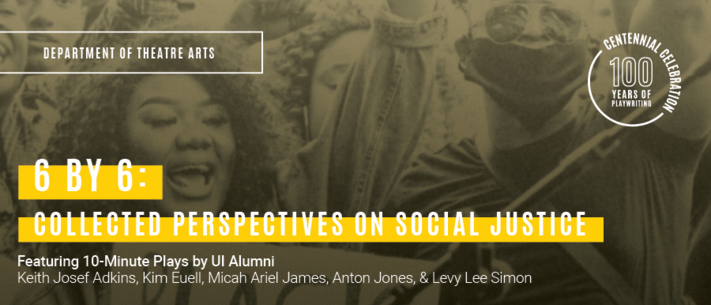 Event Description
6 by 6: Collected Perspectives on Social Justice
By UI alumni Keith Josef Adkins, Kim Euell, Micah Ariel James, Anton Jones, and Levy Lee Simon

Saturday, October 10, 2020 at 8:00 p.m.
The University of Iowa Department of Theatre Arts has reimagined its Centennial mainstage season and will open with a series of 10-minute plays entitled 6 by 6: Collected Perspectives on Social Justice. As we began developing a new approach to the season, the department was dedicated to finding opportunities to elevate diverse voices, create space for dialogue about race, and to celebrate our BIPOC alumni who have been part of the Iowa community. Works were commissioned by five black alumni playwrights who were asked to provide perspectives on social justice. These plays were written to be performed by one to three actors, with some degree of social distancing, and presented to a virtual audience.
Watch the Performance Online
Performances will be recorded and available to view online on Saturday, October 10 at 8:00 p.m. CST via a link on the department's website at theatre.uiowa.edu.
The following works will be presented:
A Refugee in Detroit
By Keith Josef Adkins
Directed by Michael Kachingwe
When a mysterious box is delivered to a newly opened cafe, the stakes instantly change and become indistinguishable between paranoia and naivety for the new refugees in Detroit.
Princeton Junction
By Kim Euell
Directed by Britny Horton
Three strangers are forced to examine their perspectives on race and politics during one fateful train ride on the New Jersey Transit.
The Honey War
By Micah Ariel James
Directed by Octavius Lanier
The Honey War was a territorial dispute between Missouri and what was then (in 1839) Iowa Territory. Nobody died. Nobody even got hurt. But they called it a war. This is not exactly about that.
#Masks
By Anton C. Jones
Directed by Steven Willis
A compilation of scenes centered on a small college's return to campus during COVID, #Masks explores the depths of social performance and what our "masks" reveal and hide.
Into the Night
By Levy Lee Simon
Directed by Mary Beth Easley
A New York cop is on a mission for justice, only to find out that justice has different meanings.
6 by 6 is part of the series Art and the Pursuit of Justice. Click here for a complete listing of other events in the series.
This event is free and will be presented online.
All performance dates are subject to change. Please visit our website at theatre.uiowa.edu for the most up-to-date information.
Individuals with disabilities are encouraged to attend all University of Iowa-sponsored events. If you are a person with a disability who requires a reasonable accommodation in order to participate in this program, please contact the Department of Theatre Arts in advance in order to participate in this program, please contact the Department of Theatre Arts in advance at 319-335-2700.