Wednesday After School Enrichment Programming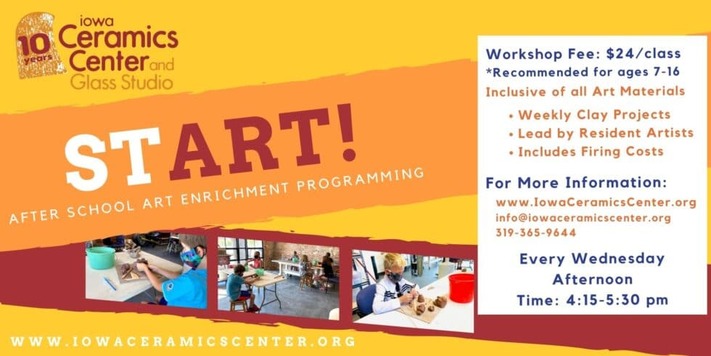 2020-10-04 17:30:00 -0500
Details

10/21/20
4:15 p.m. to 5:30p.m. -
$24.0
Ages 7–15
Categories

Educational
Hobby
Event Description
CERAMIC ART WORKSHOP SERIES: START AFTER SCHOOL ENRICHMENT PROGRAMMING
Drop off the kids on Wednesdays from 4:15-5:30pm for our after school enrichment programming. Every week there will be a different projects utilizing clay techniques, our instructors will discuss the history and use of various techniques while allowing each student to be creative in their own way. This is a series of after school workshops. Take them often for a comprehensive ceramic experience—or just take one or two for a great stand-alone art experience. In each workshop, students will create a project and glaze/paint them. We will then fire them in our kilns, to be ready for picked up 3 weeks after the workshop. A dedicated classroom will be used for every Wednesday workshop. Masks are mandatory and social distancing is enforced. These workshops are recommended for ages 7-16.
These classes are for ages 7+, all students must be able to tolerate wearing a mask for the duration of the workshop. All students will be seated to be socially distanced. Parents/Guardians may drop off their kids no more than 10 minutes before class begins, and pick them up at 5:30pm.
Select from the dates/projects below (new dates will be added every month). Workshops are $24.00/child.
Date: Wednesday, September 16th / Project: Spooky Snake Coil Bowls
Date: September 30th / Fall Impressions Slab Plate
Date: October 7th / Pinch Pot Monsters
Date: October 14th / Pinch Pot Pumpkin
Date: October 21st / Slab Build phone holder
Date: October 28th / Desktop Pen Holder
COVID-19 precautions: in the studio we are observing all COVID-19 precautions by maintaining distance, limiting the studio to 10 people at a time, providing several hand washing stations and sanitizing all surfaces regularly. Anyone that enters the studio must wear a mask. All ceramic wheel workshops are on Mondays, when the studio is closed to the public. All one-day hand building workshops will be held in our dedicated S.T.E.A.M classroom in the Cherry Building. Do not enter the building If you or your child feels ill or has been exposed to someone with COVID-19.