Virtual Holiday Mini-Bazaar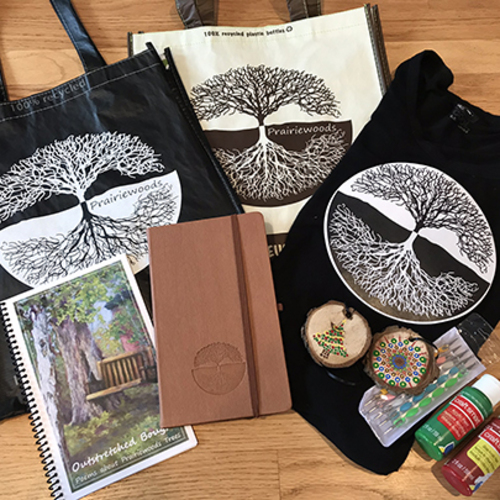 Event Description
Prairiewoods is known for its huge annual Holiday Bazaar. This year, due to COVID-19, it's not safe to gather dozens of vendors and meet in person. Instead, we will host a Virtual Holiday Mini-Bazaar with some special Prairiewoods items available for order via phone (319-395-6700) or email (ecospirit@prairiewoods.org) from Nov. 20–Dec. 18, with touch-free pick-up. The products available include:
• Tree-shirts with our gorgeous tree top and roots image, now in classic black! ($16 for short-sleeve, $22 for long-sleeve)
• Reusable Prairiewoods shopping bags in black or brown ($6)
• Wood-grain journals ($17)
• Outstretched Boughs, our popular, recently released book of tree poetry ($10)
• Wooden disc ornament kits for creating at home (includes 8 discs cut from Prairiewoods trees lost in the derecho, instructions for painting both a mandala and a dotted Christmas tree, ribbons for hanging, 1 set of dotting tools and 5 full-size acrylic paints)—this is a great activity for the whole family! ($20)
• Trappistine Finest Caramel Assortment 24-ounce box ($25, limit 2)
• Trappistine Vanilla Caramels or Chocolate Caramels in 8-ounce, gold-striped bags ($9.75, limit 2)
• Gift certificates (any dollar amount)
Gift certificates and tree poetry books can be mailed. All other items will be available for touch-free pick-up at Prairiewoods at your convenience. Contact us between Nov. 20 and Dec. 18 (at 319-395-6700 or ecospirit@prairiewoods.org) to place your order!