Holidays with Wolfgang - Red Cedar Chamber Music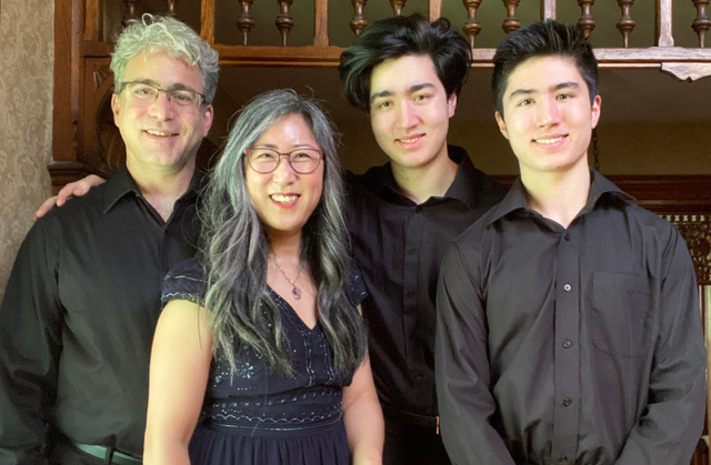 Event Description
Holidays with Wolfgang
Red Cedar's core ensemble, violinist Miera Kim and cellist Carey Bostian, team up with their sons, emerging artists Oliver and Adrian Bostian, for a holiday program designed to bring the warmth of their home to yours. Holidays with Wolfgang is the second concert program in Red Cedar's 2020-2021 Hearth & Home series. The program opens with a youthful violin duet by composer-in-residence Michael Kimber, written in the classical style under the alias Wolfgang Amadeus Kimber. Following the Kimber is Corelli's famous Christmas Concerto arranged for the family string quartet of two violins and two cellos. Mozart's masterful Piano Quartet in G minor closes the program with Adrian on piano, joined by violin, viola and cello.
Holidays with Wolfgang will be broadcast live via YouTube on Sunday, December 27 at 3 pm and Monday December 28 at 7 pm.
Holidays with Wolfgang is made possible by the Greater Cedar Rapids Community Foundation, the National Endowment for the Arts, Arts Midwest, the Iowa Arts Council (a division of the Iowa Department of Cultural Affairs), the City of Marion, the Carleen & Eugene Grandon Charitable Foundation, AEGON Transamerica Foundation, the McIntyre Foundation, Farmers State Bank, and Friends of Red Cedar Chamber Music.
Special thanks to Season Artist Sponsor Juanita Dennert.