Make 3 Pairs of Earrings: Intro to Wirework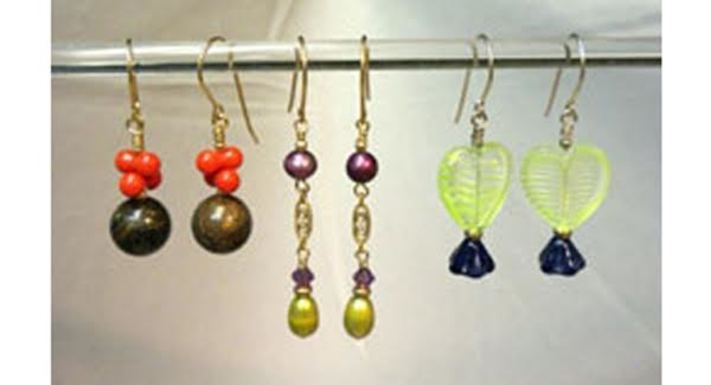 Event Description
Who doesn't need a new pair of earrings? Learn to make earrings for yourself or as gifts. Solid instruction on the use of jewelry tools will assist you in making three pairs of earrings. Two wirework skills will be practiced and used to make three pairs of earrings. The first skill is making a closed wrapped loop that allows you to make earrings and pendants. The second skill is making a closed wrapped loop inside of a closed loop, allowing you to attach dangles to chains. You will make earrings from Czech pressed glass, stone, freshwater pearls, and Swarovski crystals. No previous experience is necessary. Instructor: Karen Kubby.
Note: This class serves as a pre-requisite for the Bails class on Feb. 13., the Pendulum class on Feb. 13, the Flapjack earrings class on Feb, 26, and the Copper Chandelier Earrings class on Feb. 27. An important skill to have!
Registration is $60 and includes all materials and instruction. Register in person, via phone at 319 338-1566, or on-line.
During the COVID-19 recovery period, classes are limited to 6 people on a first come first served basis via paying the registration fee. Face coverings must be worn during class and participants will be spaced at least 6 feet from each other. Tools will not be shared and will be cleaned before and after use. Please call for more details about our safety protocols. Demos done through Zoom.