Summer Camp Workshop: Deep Space Summer Workshop (4P1T)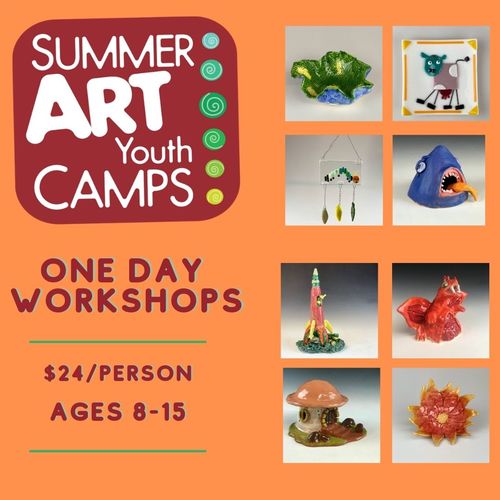 2021-04-25 15:00:00 -0500
Details

7/06/21
1 p.m. to 3p.m. -
$24.0
Ages 8–15
Categories

Educational
Hobby
Event Description
July 6 at 1:00 pm - 3:00 pm
Deep Space Summer Workshop (4P1T): A workshop that would make NASA proud! Create projects that you think would only exist deep in space. This workshop is for ages 8 to 15.
Iowa Ceramics Center and Glass Studio 329 10th Ave SE, Cedar Rapids
Back this summer—one day Ceramic Workshops! For all ages 8-15. Drop off your kiddos with us and we will work with them to create a fun project in the studio. Cost is $24/person.
Drop off the kids for single-day Workshops this Summer!
Our camp sessions will have limited participation and restructured for social distancing. For the safety of our campers and staff, and to maintain social distancing, the layout of the studio has changed. A dedicated room will be used for all one-day workshops and multi day camps will be in a private section of the studio. Campers will not share tools or equipment. Hand-washing time is integrated into the camp schedule, and new hand sanitizer stations will be placed throughout the studio.
Face coverings are required for all campers and camp staff. High-use surface areas and restrooms will be cleaned throughout the day and thoroughly disinfected after camp each day. Our camp staff will participate in additional education and training on Covid-19 strategies.
Summer Youth Art Camps at ICCGS–for ages 8-15! At ICCGS, we have provided art education for over 10 years through our Summer Camp Programs. For 2021, we are excited to offer a variety of 1-day workshops. In each 2-hour Summer Camp Workshop, campers will create a project using a variety of hand building skills–with help from our Summer Camp Instructors. The campers will then glaze (aka paint) their works to be fired in our kilns. Projects will be available for pickup 3 weeks after their workshop. These camps are a great option for siblings who want to take a class together