Oral Histories Live Featuring Dave Rasdal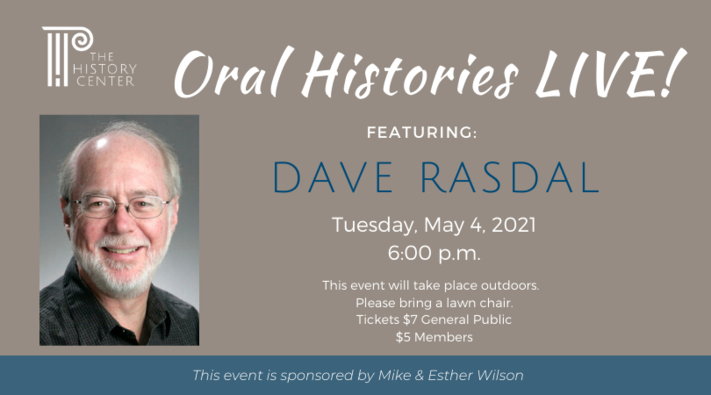 Event Description
The History Center invites the community to join in on ORAL HISTORIES LIVE! offering interviews with influential members of Linn County who share their stories and preserve legacies.
Join us May 4th outside on the lawn for an interview with Dave Rasdal.
Dave Rasdal, a native Iowan, came to Cedar Rapids in 1979 as a reporter for The Gazette, left for a few years in the late '80s and returned in 1990 because it felt like home.
In all, Rasdal spent more than 30 years at The Gazette, primarily writing his feature column, "Ramblin' with Rasdal" which as later shortened to simply "Ramblin'," until 2013. He won numerous writing awards, including master columnist from the Iowa Newspaper Foundation.
In the eight years since leaving The Gazette, Rasdal has written several books including "Czech Village & New Bohemia – History in the Heartland" published in 2016 by The History Press. He ghost-wrote Anamosa banker Ernie Buresh's autobiography, "The Advantage of Being Born Poor," which was self-published in 2015. And in 2019, Rasdal published his novel, "Night Beat," which takes place in Cedar City, Iowa, which will immediately become familiar to anyone who lived in Cedar Rapids in 1986.
Along with writing comes research, which includes a lot of examinations into history which has continued to pique Rasdal's interest for decades. Many of his Ramblin' columns featured historical accounts of the people, places and landmarks he visited, not only in Cedar Rapids but throughout Eastern Iowa.
Rasdal's Ramblin' has included riding an elephant for the Ringling Brothers circus parade through downtown Cedar Rapids, flying in the back of a P-51 Mustang over Belle Plaine, soaring in a hot-air balloon above Iowa City, accompanying a CRST truck driver for a delivery to California and back, and floating on a riverboat up the Mississippi River to Dubuque as casino gambling began in Iowa in 1991. He is also remembered for a series of columns he wrote after getting beat up in Cedar Rapids in 1992. His most enjoyable stories, though, were talking to everyday men, women and children about their lives.
Rasdal was born in Lake City, Iowa, on St. Patrick's Day, March 17, 1953, grew up in Marshalltown and graduated from high school in Spencer. After graduating from the University of South Dakota in 1975, he became sports editor in Spencer and then city editor in Vinton before coming to Cedar Rapids where he lives today.
Sponsored by Mike & Esther Wilson.
General Public $7.00
History Center Members $5.00