Youth Mental Health First Aid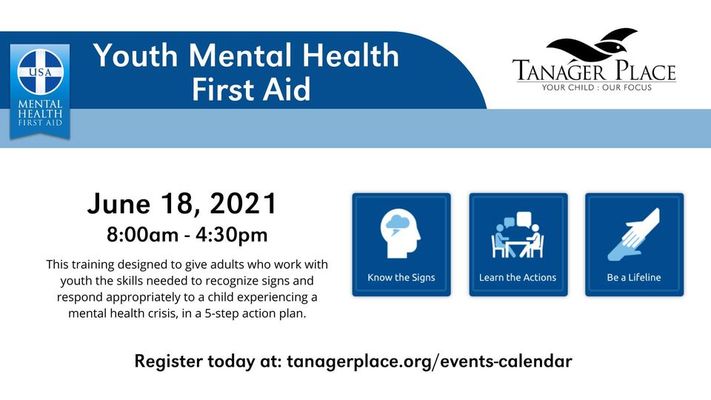 2021-05-27 16:30:00 -0500
Details

6/18/21
8 a.m. to 4:30 p.m. -
Free
All Ages
Categories

Educational
Community
Event Description
Youth Mental Health First Aid (YMHFA) is a free training class designed to equip teachers, nurses, coaches, and parents on how to recognize signs and respond appropriately to a child experiencing a mental health crisis.
YMHFA introduces common mental health challenges for youth, reviews typical adolescent development, and teaches a 5-step action plan for helping young people in crisis and non-crisis situations. Topics covered include anxiety, depression, substance abuse, disorders in which psychosis may occur, disruptive behavior disorders (including ADHD), and eating disorders.
To receive credit for the course, attendees must attend in the entire session.
Instructors: Marion Jacobs and Robin Hoffman
Breaks: 1 Hour Lunch Break
Location: Lower Level Training Room - Tanager Place Estle Center
Who should attend? Parents, social workers, mental health authorities, educators, administrators, substance abuse professionals, coaches, law enforcement, daycare providers, etc.
Registration is required: https://tanagerplace.org/event/youth-mental-health-first-aid-16