Music by the Gross: Red Cedar Chamber Music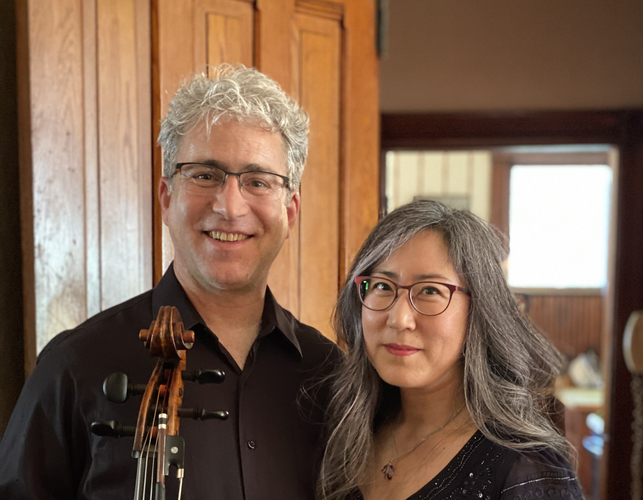 Event Description
Red Cedar Chamber Music presents Music by the Gross, featuring 4 Concerti Grossi for an orchestra of 11, June 18-20, 2021. Core ensemble members and directors Miera Kim, violin and Carey Bostian, cello will be joined by 9 other string players. Three outdoor performances will be held as well as one live-streamed concert (limited in-person attendance. On Friday June 18 at 7 pm the ensemble will perform at the Lowe Park Amphitheater in Marion, IA.
Red Cedar's 25th season has focused heavily on emerging artists with concerts that included the directors two sons, Oliver (viola) and Adrian (cello), as well as the inspiring 17-year old violinist, Katya Moeller of Iowa City. The chamber orchestra for Music by the Gross includes those three teenagers as well as returning Iowa artists, Hoi Ting Davidson and Hannah Duncan, on violin. Both have been mentored by Red Cedar's directors during their high school and college years. Other emerging artists will include violinist Andrew Dunlap from Wisconsin, fiancé of Davidson and a former student at Rice University, as well as Austin Vawter, a bassist from Cedar Rapids, former student of Volkan Orhan at the University of Iowa and Principal Bassist of the Peoria Symphony. Rounding out the ensemble are violinist John Schultz, operator of Schultz Strings and former violin teacher of Hannah Duncan as well as violist Michael Kimber, Red Cedar's composer-in-residence for 2019-2022.
The program includes Concerti Grossi by Vivaldi, Handel, and Corelli as well as a newly commissioned Concerto Grosso by Michael Kimber. Each of the 6 violinists gets a chance at one of the solo parts. Kimber's new Concerto Grosso will be premiered May 23 in Iowa City by the Preucil School of Music's 2021 graduating class conducted by Carey Bostian. Red Cedar feels fortunate to offer these opportunities to young artists during a time where so many opportunities have passed them by. The program is outside of Red Cedar's usual model as it is a small orchestra and was designed to be effective outdoors. The performance at Lowe Park Amphitheater will be amplified.