DeMedici Heirloom Pendant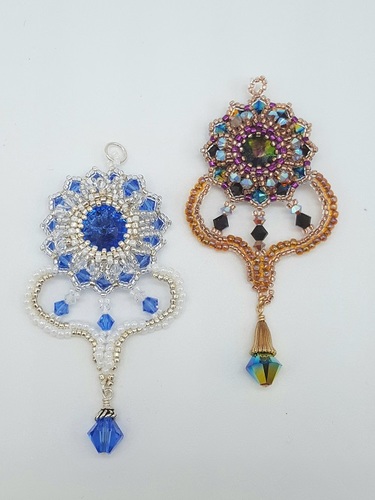 Event Description
Using instructions from beadwork designer Gianna Zimmerman-Lammering, make a beautiful pendant. The centerpiece is a Rivoli that is highly embellished with seed beads and Swarovski crystals. Then add an innovative herringbone technique that ends with a Swarovski dangle. Participants must download and print the instructions ($5.09) and bring them to class. Beadology Iowa will offer a supplement to enhance the instructions. Instructor: Karen Kubby.
Pre-requisite: basic peyote stitch skills. Call for a tutorial or private class.
Registration is $88 and includes all materials and instruction. Register in person, via phone at 319 338-1566, or on-line.
Beading stations are distanced, masks required, and demos done on a large screen TV.