2nd Annual Kids' Safety & Wellness Fair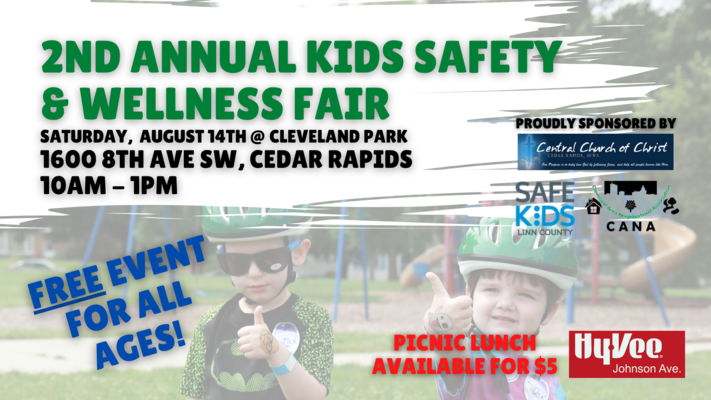 2021-07-16 13:00:00 -0500
Details

8/14/21
10 a.m. to 1 p.m. -
Free
All Ages
Categories

Family Friendly
Event Description
Cedar Rapids Central Church of Christ, Cleveland Area Neighborhood Association - Cedar Rapids, Iowa, and Safe Kids Linn County are proud to host the 2nd Annual Kids Safety & Wellness Fair on Saturday, August 14th at Cleveland Park in Cedar Rapids. The fair is excited to be back in 2021! This year's fair will run from 10am to 1pm for families in Linn County.
Admission is FREE. No pre-registration or tickets required. Registration will be at the welcome tents at the event.
At this year's fair, children and families will have the opportunity to check out safety stations with information on pedestrian and bicycle safety, poison and drug safety, fire safety, and a variety of local agencies providing community resources, including Waypoint, Central Furniture Rescue, Young Parents Network, and more. There will be yard games, crafts, and other fun activities for families to participate in.
Those who attend will have the opportunity to enter to win a car seat, bicycle helmets, backpacks, and other prizes. Special guests at the fair will include McGruff the Crime Dog from the Cedar Rapids Police Department, Sparky from the Cedar Rapids Fire Department, and a few other surprise guests!
The Cleveland Area Neighborhood Association welcomes families to enjoy the new playground at Cleveland Park and to join us for a picnic lunch fundraiser. Lunch will be served for the duration of the event (10am to 1pm). Cost is $5 for adults and children. A special thank you to HyVee on Johnson Ave for their contribution to the event. All proceeds from the lunch fundraiser will go back to the association to continue to produce free community events in the neighborhood.
For more information, please send inquiries to clevelandpark108@gmail.com or visit the Cleveland Area Neighborhood Association website at www.cana108.com.