Curator Guided Tour with Dr. Anna Barker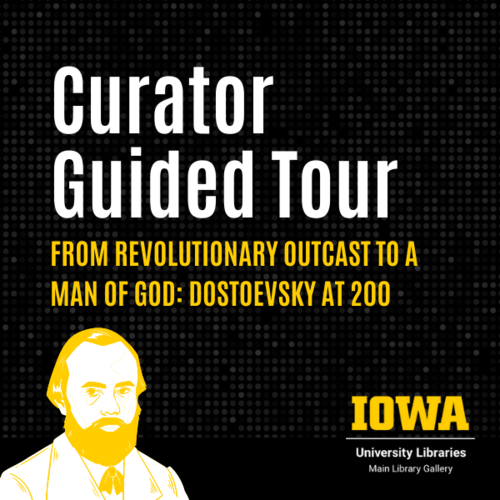 2021-08-30 17:00:00 -0500
Details

10/23/21
4 p.m. to 5p.m. -
Free
All Ages
Categories

Museum/Exhibit
Event Description
Join Dr. Anna Barker, curator of From Revolutionary Outcast to a Man of God: Dostoevsky at 200, for a special guided tour of the exhibition. She will be available for Q&A following the tour. All are welcome! Admission to the gallery and the tour are free.
About the exhibit: From Revolutionary Outcast to a Man of God: Dostoevsky at 200 is dedicated to the life and work of the Russian writer Fyodor Dostoevsky (1821-1881). Curated by Dr. Anna Barker, University of Iowa professor of Russian literature, it covers the entirety of Dostoevsky's prolific literary career. His youth, his years of exile in Siberia, a period of gambling addiction, and his philosophical and theological teachings are explored in the context of Russian historical events and many of his most famous novels, from Poor Folk to The Brothers Karamazov.
Visit lib.uiowa.edu/gallery for parking and other information.
This event is part of the Iowa City Book Festival.
Individuals with disabilities are encouraged to attend all University of Iowa–sponsored events. If you are a person with a disability who requires a reasonable accommodation in order to participate in this program, please contact Sara Pinkham in advance at 319-467-1805 or sara-pinkham@uiowa.edu.