BAND 141: An exhibit celebrating over 140 years of Hawkeye marching excellence, tradition, and community at the University of Iowa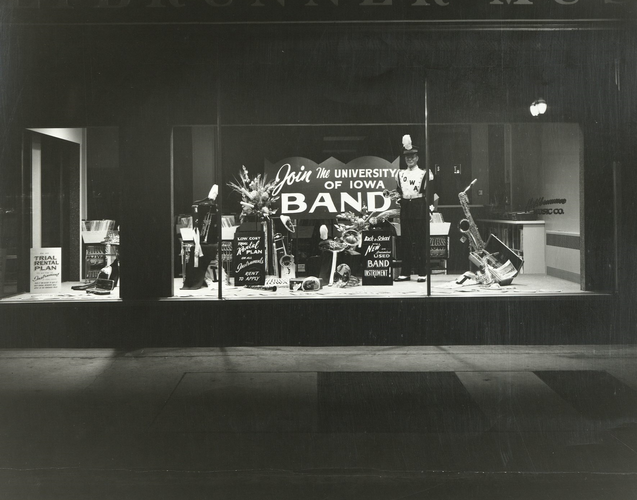 Event Description
Stop by the Voxman Music Building for BAND 141, an exhibit featuring the Hawkeye Marching Band. Director Eric Bush donated a significant collection of materials from the Band's history, including photographs, drill charts, papers, scrapbooks, uniform pieces, audio and video recordings, and other memorabilia to the Rita Benton Music Library in 2020. The exhibit draws from these donated materials, as well as several other collections held in University Archives such as the UI Yearbooks, Charles B. Righter Papers, Scottish Highlander Records, and the Daily Iowan archives.
The exhibit opened September 3. Start your visit on the first floor by the School of Music offices where you can explore the band's history through its thirteen directors, core song list, innovative formations, and wide ranging uniforms. The exhibit continues on the second floor alongside the Recital Hall, highlighting the Band's drum majors, alumni, the Golden Girl, and Scottish Highlanders. And lastly, keep your eye online for certain exhibit pieces either on the HMB's social media feeds or the Music Library's website.
Go Hawks!
The exhibit is available to view for free during Voxman Music Building's open hours during the Fall 2021 semester:
Monday - Thursday: 7:00 AM - 11:00 PM
Friday: 7:00 AM - 10:00 PM
Saturday - Sunday: 10:00 AM - 10:00 PM
Individuals with disabilities are encouraged to attend all University of Iowa–sponsored events. If you are a person with a disability who requires a reasonable accommodation in order to participate in this program, please contact Katie Buehner in advance at 319-335-3088 or katie-buehner@uiowa.edu.