Family Yoga on the Farm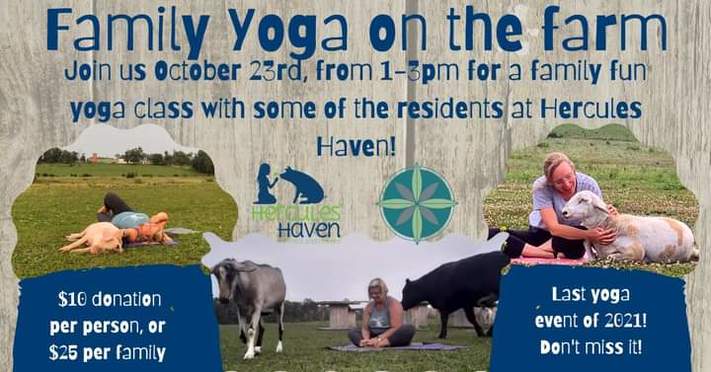 2021-09-21 15:00:00 -0500
Details

10/23/21
1 p.m. to 3p.m. -
Free
All Ages
Categories

Family Friendly
Event Description
Join Lynn Block from Latitude Yoga and Fitness. She will lead a slow flow style of yoga. It is geared for all levels of yoga practitioners, from beginner on up. The class will flow from pose to pose, offering time to find our expression of each pose and connect it with our breath. We will focus on alignment and breath at a slower tempo to find what feels good for our bodies. We will bring awareness to loving kindnesses and gratitude during the yoga session. A great way to connect to the earth, the animals, and ourselves, letting go of stress and tension.
Make sure to bring yoga mat or towel, and water. Children 5 and up are welcome to attend. If you would like to bring children under 5 please contact us to discuss. After class we invite you to stay for a tour of the farm.
Registration is required, please click the ticket link to reserve your place. Only $10 per individual, and $25 per family. All proceeds go to caring for the residents of Hercules Haven.
Tickets available here:
https://secure.lglforms.com/form_engine/s/DmLqm4OvNwKvXzk8pGg6ew
Please sanitize hands on arrival.