Frightening Fridays @ NewBo Market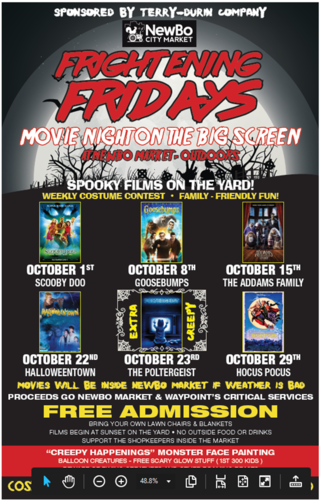 Event Description
Terry-Durin Co. will not let Halloween pass with out a major Halloween event. So we are planning the following.
We are doing Friday Fright Nights Movies on the big screen at NewBo Market starting Friday, Oct. 1 and every Friday after throughout October:
Oct. 1: "Scooby Doo"
Oct. 8: "Goosebumps"
Oct. 15: "The Addams Family"
Oct. 22: "Halloweentown"
Saturday, Oct. 23: "The Poltergeist"
Oct. 29: "Hocus Pocus"
The NewBo yard will be converted into a complete haunted attraction with roving monsters of the night. Spooky snacks and Boo beverages will be available for purchase. The first 300 kids will get Ghoulie bags.
Each movie night will have different frightening things happening and lots of scary things happening for young and old.
On Saturday, Oct. 23 we are stepping up the chills with the movie "Poltergeist" from 6:30 to 8:30 p.m. and then throwing The DAY OF THE DEAD PARTY at the OLYMPIC THEATER. All attendees are encourage to dress up in full Halloween costumes for all of these events.
The POLTERGEIST MOVIE and DAY OF THE DEAD OF DEAD PARTY on Oct. 23 will feature MIXTAPE HIP/HOP-ROCK BAND and unbelievable decorated OLYMPIC THEATER NOT FOR FAINT OF HEART will be a highlight for teenagers and adults .
Do not miss any of these Halloween events if you are a Halloween enthusiast.
PLEASE, ALL ARE ENCOURAGED TO COME IN COSTUME!
Please reach out to Peter Durin for details, 319-551-7283 or pdurin@terry-durin.com. If you are interested in helping with planning this event, please contact me!