Licorice Schtick: Red Cedar Chamber Music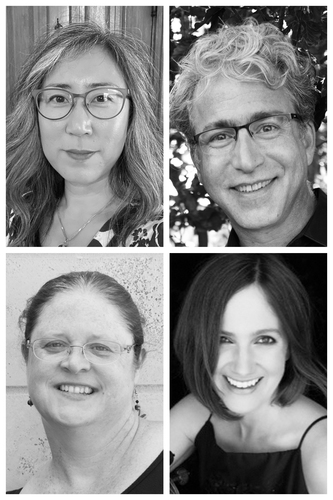 Event Description
Tickets $20 at the door, $10 for under thirty.
Red Cedar Chamber Music's Directors and core ensemble, violinist Miera Kim and cellist Carey Bostian are joined by clarinetist Christine Bellomy and violist Elizabeth Oakes for a program of works by living composers.
This is Christine Bellomy's third appearance as guest artist with Red Cedar, having performed two previous trio programs with the core ensemble. This program adds violist Elizabeth Oakes and includes 5 works for clarinet, violin, viola, and cello by living composers. Oakes is the Director of the University Iowa String Quartet Residency program and the former violist of the Maia Quartet.
Among the five living composers with works on the program are two women, Gwyneth Walker (b. 1947) and Natalie Hunt (b. 1985). Walker is a former faculty member at Oberlin Conservatory and is retired to her hometown in Connecticut. Her work A Cup of Rejoicing opens the program. Hunt is an exciting young composer living in New Zealand. Jeff Smallman (b. 1965) is a versatile Canadian composer. Both he and Hunt have written multi-movement works for clarinet quartet that represent very different styles.
Two Iowa composers have contributed works to the program. Jerry Owen, Red Cedar's first composer-in-residence, has arranged his 1994 work Licorice Brittle (originally for clarinet and piano) for the ensemble. The work was premiered by Christine Bellomy and has tremendous energy and an intricate texture. Michael Kimber, Red Cedar's current (6th) composer-in-residence has written Four Chorinhos for Little Brazilian Birds for the program. Choros is an instrumental Brazilian music genre akin to New Orleans jazz. Each movement is dedicated to an endangered Brazilian songbird. Kimber's Chorinhos are as colorful as the birds that inspired them.
The September-October series of concerts is made possible by the Greater Cedar Rapids Community Foundation, the City of Marion, the Iowa Arts Council, the McIntyre Foundation, AEGON Transamerica Foundation, the National Endowment for the Arts, CRST International. Additional support comes from United Fire Group, Farmers State Bank, Hills Bank, Cedar Rapids Bank & Trust, and Friends of Red Cedar Chamber Music.
Special thanks to Artist Sponsors Juanita Dennert and ImOn Communications.