The Future of the Democratic Party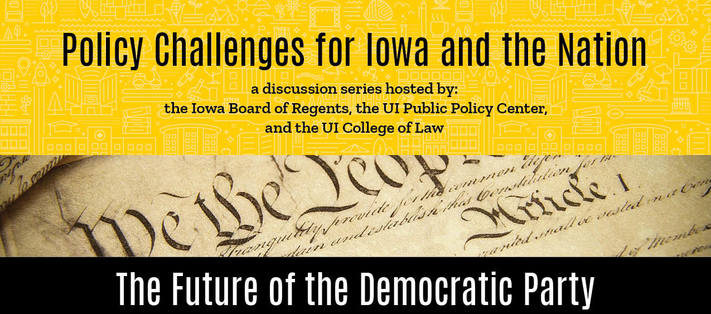 Event Description
Please join us for a discussion featuring alternative views on the challenges facing the Democrats and the impact that the internal discussions occurring in the party will have on policy - both when in the majority and when in the minority.
Tracy Osborn, PhD, associate professor of Political Science, will serve as Moderator.
Keynote Speakers:
Seung Min Kim, reporter for the Washington Post, will provide a journalist's perspective after covering the White House and the Senate for more than ten years.
Thomas Holbrook, professor of Government, University of Wisconsin-Milwaukee, who researches political behavior, campaigns, and elections. In 2016, Professor Holbrook wrote the book, Altered States: Changing Populations, Changing Parties, and the Transformation of the American Political Landscape.
Dave Loebsack, former member of the US House of Representatives for Iowa's 2nd District (2007-2021).
Reactors for the discussion:
Nick Salazar, League of United Latin American Citizens
Stacey Walker, Linn County Supervisor District 1
Rep Lindsay James, Dubuque County
Rep Eric Gjerde, Linn County
Topics to be discussed include:
How has the democratic party changed over the last 10-20 years?
How do the policy differences in the democratic party affect their ability to pass their legislative agenda?
How might the philosophical and demographic differences among democratic voters affect the 2022 and 2024 elections?
This event is free and open to the public. For those not able to attend in person, it will be livestreamed and archived on the Public Policy Center website. The link to the livestream will start at 7:00pm on October 14.
The event will also be live-streamed and archived on the Public Policy Center website.