BOO AT THE BARN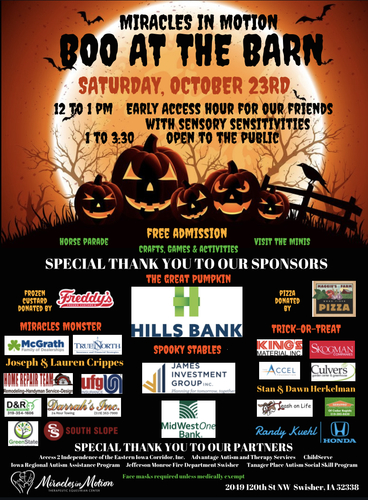 2021-10-14 15:30:00 -0500
Details

10/23/21
12 p.m. to 3:30p.m. -
Free
All Ages
Categories

Family Friendly
Event Description
Miracles in Motion Therapeutic Equestrian Center in Swisher (Miracles) is celebrating Halloween, Saturday, Oct. 23 from 12 noon to 3:30 p.m. There will be an early access hour from 12 to 1 p.m. for our friends with sensory sensitivities.
It will be a Spooky Halloween celebration at the Miracles in Motion Farm, a 76-acre spread located two miles west of Swisher (exit 10 off Interstate 380). Kids and adults alike will enjoy lots of Spooktacular fun with the Miracles' team and their miraculous herd of horses. Activities will include games, treats, and other fun. Wear your Halloween costume - some of our horses will be wearing theirs, too!
In addition to fun, games and treats, kids will have the opportunity to meet our horses up close and personal. The herd will be walking in a Horse Costume Parade, a new addition to the day's activities this year.
Miracles, in operation since 1988, is a 501(c)(3) nonprofit organization providing programs and services to children, young adults, and veterans with a wide range of physical, intellectual, and emotional challenges.
Anyone who is interested in volunteering or learning more about participation in our therapeutic-riding programs may visit our website, www.miraclesinmotion.com or call us at 319-857-4141.