Art to Eat By: Cookbooks as Record and Expression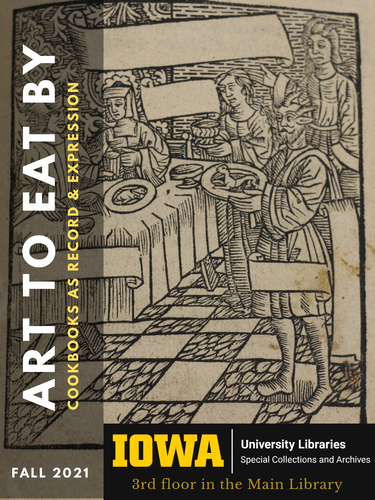 Event Description
From medieval coronation banquets with elaborate sugar sculptures known as subtleties to the technicolor party food of the 1960s, food as art has long been tied to the enjoyable and meaningful experience of dining.
Curated by Eric Ensley and Diane Ray, this exhibit in the University of Iowa Libraries Special Collections & Archives Reading Room draws primarily from materials in the Szathmary Culinary Collection. It shows that books about food have often attempted to navigate the personal, familial, and domestic spaces of dining while displaying a public-facing image of those experiences. The exhibit explores representation of gender roles as well as the political, artistic, and communal impact of food.
Visitors will find culinary books and other materials from across the centuries on display in the Special Collections & Archives Reading Room, 3rd floor, Main Library.
For parking information: https://www.lib.uiowa.edu/locations/main/parking/
Reading Room hours:
Monday - Friday, 9:00 AM - 4:00 PM
Tuesdays open later until 6:00 PM.