Holiday Elf Workshop Drop-in--Iowa Ceramics Center and Glass Studio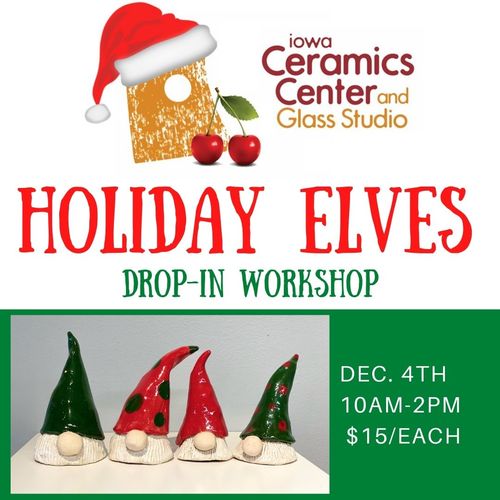 Event Description
During the Very Cherry Holiday Exhibition in the Cherry Building, ICCGS will host a special drop-in Santa's Workshop creating Holiday Elves from 10am-2pm.
Participants will be given a ball of clay, colored glazes and detailed instructions for how to create their very own holiday Elf for $15 each. Projects will take approximately 30-60 minutes to create. All projects will then be clear glazed and fired in our kilns and ready for pickup beginning Sunday December 19th.
Then get a photo with Santa! Santa Claus himself will be visiting the Cherry building from 10am to 12pm. So be sure to join us on December 4th for a Very Cherry festive day!