AbideCR Conference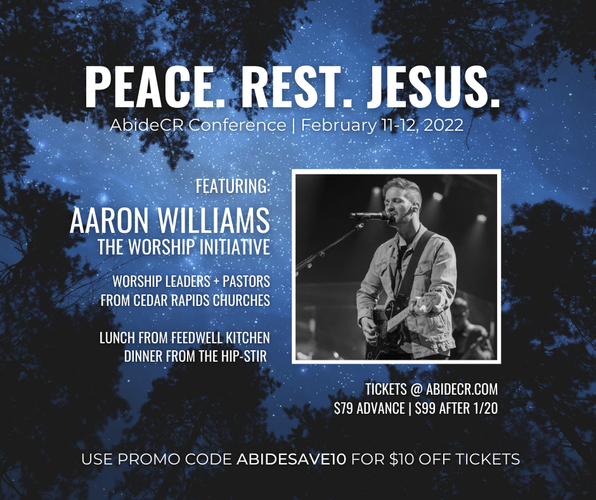 Event Description
AbideCR: The Un-Conference for Believers

Featuring Aaron Williams from The Worship Initiative
Catering provided by Feedwell Kitchen & Bakery and The Hip-stir
AbideCR is an intentional, set-aside time to slow our pace and enjoy God's loving presence. Unhurried worship. Encouragement from God's word. Fellowship with the family of God. Rest with Jesus.

Musicians and Guest Speakers
The AbideCR Conference offers dedicated time to experience God here in Cedar Rapids. Aaron Williams and The Worship Initiative from Dallas, Texas, will lead worship at the AbideCR Conference on Friday & Saturday nights. Worship leaders from churches around the city have also banded together to lead worship in what we're calling the AbideCR Worship Collective. Cedar Rapids-area pastors have prepared special messages to help people find rest in Jesus. In a unique experiential breakout session, you'll explore ways to encounter the presence and peace of God, "choose your own adventure" style.

A call to holiness
We long to see the Body of Christ in our region encounter the Living God. To rest under the sound teaching of His Word, and to respond in quiet and in worship. AbideCR creates a space to practice this spiritual discipline together and to equip believers to continue to practice it in private.

A call to unity
One Body. One Spirit. One Lord. One Christ. We believe it is imperative that The Church pursues unity instead of competition. We unite in our desire to see the glory of the gospel's impact in our community, so pastors, worship leaders, and believers from around our city and region are coming together to worship.

Food & Beverage Catering
AbideCR has partnered with Feedwell Kitchen & Bakery in Cedar Rapids and The Hip-stir in Marion, Iowa, for all conference meals, which are included in your ticket price.
For details and to buy tickets, visit www.abidecr.com
Save an extra $10 when you use promo code: ABIDESAVE10