Grant Wood Country Online Writers Forum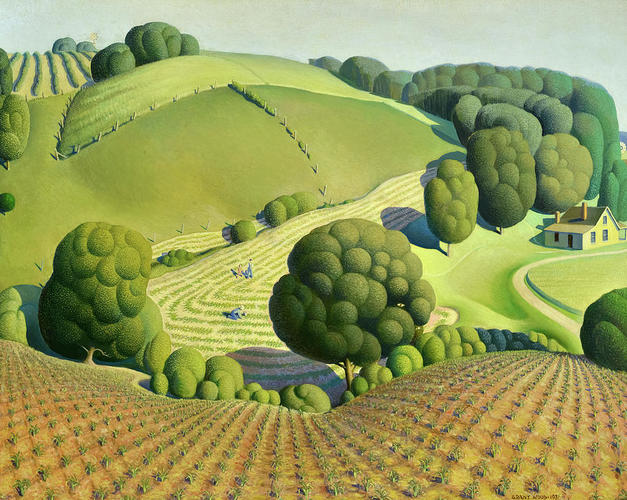 Event Description
"Friendships through Words & Art: A Journey into the Life, Legacy and Land of Grant Wood" is a ten-week series to spark conversation and curiosity and inspire creative writing related to Iowa's iconic artist and son Grant Wood and the beautiful land he painted.
This online series is for anyone interested in learning and responding, conversationally or through creative writing (short fiction, poetry, lyrics/songs, creative non-fiction, short essay), to the enduring legacy of Grant Wood, his artworks and many artistic friendships and associations, as well as the land, history and culture of Iowa across time.
The series includes enlightening presentations, conversations and tools and resources for writers and observers. Also included are scheduled reading and conversation sessions for writers to respond creatively to featured art and content.
Online and print projects (submission details available during the series) are built into the series, including an in-person celebration reception on Sunday, August 28 at the Cedar Rapids Public Library's LivingLearning Rooftop in the spirit of Sunday afternoon happenings during the days of the Stone City Art Colony.
Attendance at all sessions is not required. However, participation is necessary to be considered for publication and for inclusion in the celebration reception as reader or performer.
This dynamic initiative is a continuation and expansion of the series first presented by Grant Wood Writers Forum and the Anamosa Library & Learning Center in 2020-2021.
Collaborating partners now include: The Grant Wood Country Writers Forum, Anamosa Library & Learning Center, Cedar Rapids Public Library, Cedar Rapids Museum of Art, and Iowa Poetry Association.
Register for one event to be signed-up for the entire series. The Zoom link will be sent each Monday morning for the evening's event.
Register for the first event here: https://crlibrary.libnet.info/event/6057961
Miss the first one? Join anytime during the series by registering at https://crlibrary.libnet.info/events