YPN Prenatal and Parenting Groups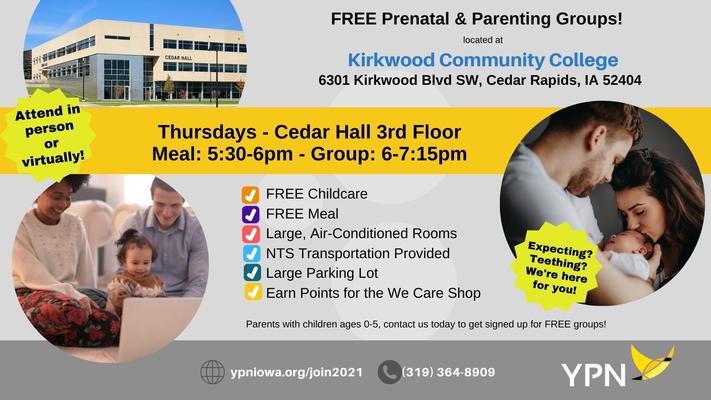 Event Description
YPN offers FREE educational peer support groups for expecting parents or parents with child(ren) ages 0-5.
When: Thursday evenings (5:30-6pm meal, 6-7:15pm group, 6-7pm on zoom)
Where: Kirkwood Community College (3rd Floor, Cedar Hall)
We Offer: Peer/Support groups in English, Spanish, French, Swahili. FREE transportation, FREE meal, FREE childcare during group.
Parents earn incentive points to use in our We Care Shop. (Diapers, clothing, toys, baby care items and more)
Learn more at www.ypniowa.org/join or call 319-364-8909 to join!
**Earn 50 We Care Shop points after completion of interest form and initial program intake and 50 additional We Care Shop points after attending 3 virtual or in-person groups!
YPN strives to Support, Educate, and Empower local families.