3rd Thursday at Hoover's presents "Lou Henry Hoover's White House Years"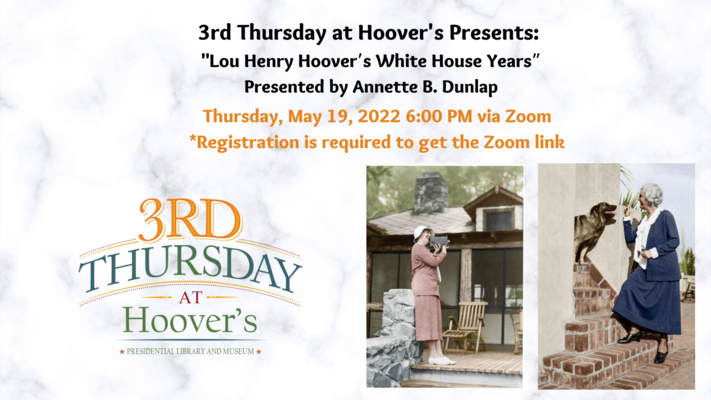 Event Description
When Lou Henry Hoover moved into the White House on March 4, 1929, she looked forward to using her influence to strengthen the areas that were near and dear to her heart: women's opportunities; the arts; and private philanthropy. The onset of what we now call the Great Depression challenged Lou's plans, but she saw new opportunities for serving the nation and remained undaunted.
Lou continued to blaze a trail of achievements that have often been forgotten. She was the first president's wife to address the nation by radio. She continued the work of updating the White House to accurately reflect its history and documented that work.
Lou's private philanthropy led to the building of a school for children in a remote area of rural Virginia, and she sought out and supported local artisans for a number of special projects. Annette Dunlap, author of the soon-to-be-released biography of Lou Henry Hoover, will share stories from Lou's White House years.
About the speaker: Annette B. Dunlap is an independent scholar and journalist. She is the author of Frank: The Story of Frances Folsom Cleveland, America's Youngest First Lady; The Gambler's Daughter: A Personal and Social History; and Charles Gates Dawes: A Life. Ever since she was a schoolgirl she has enjoyed reading about other people's lives, and determined at an early age the one day, one of her books would be in the biography section of the library.
This program will be virtual via Zoom. Registration is required to get the Zoom link. To register click here