Pinch, Coil and Slab Mythological Creatures 3-day Summer Camps for ages 7-15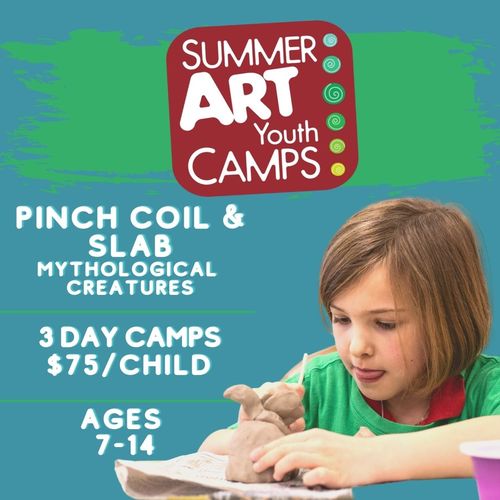 Event Description
NEW FOR 2022–3 Day –Pinch, Coil & Slab Theme Weeks
These 3-day camps are designed for ages 7-14. Students will spend this camp learning basic hand building skills to include: coiling, pinching and slab-building. In addition to being exposed to a working pottery studio, each student will receive individualized instructions according to their interest and experience. Campers will add colors to their creations by painting with special glazes and slips, to make their project truly one of a kind. One project will be created each day. Projects will be dried on our shelves, then fired in our kilns for pick up three weeks after camp ends.
Date: July 18th–July 20th (Monday through Wednesday)
Theme: Mythological creatures: whether it's a dragon or a mermaid, we will delve deep into your camper's imagination this week!
Time: 9:00AM–11:00AM
Tuition: $75/person
Camp Code: 7A3