Mushroom Foraging 101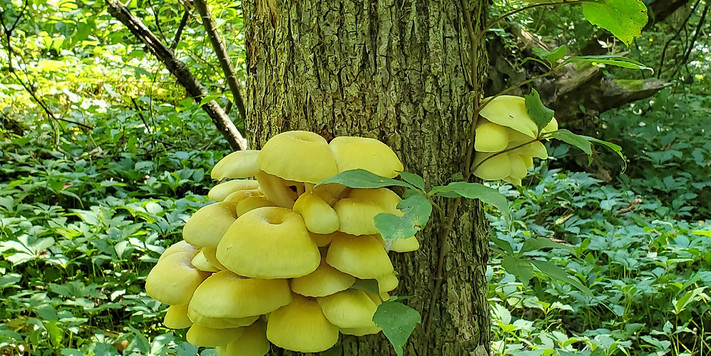 Event Description
You may already enjoy edible mushrooms when dining out or when you purchase them from the store. Come discover how to ethically harvest mushrooms from the forest. We will explore diagnostic features including size, color, shape of cap and stem, underside features including pores, gills and teeth, and more. Because mother nature is unpredictable, we can not say for sure what we will find on our journey. We will be on the look out for edible mushrooms including oysters, golden oysters, woodear, chicken of the woods, hen of the woods, dryads saddle, and chanterelles. We may also encounter nonedibles along the way.
Remember to always be 100% sure on your identification before consuming wild found foods.
You are invited no matter your level of outdoor experience.
Yummy snacks generously provided by New Pioneer Co-op.
THNGS TO BRING
Standard attire and sun protection for hands-on outdoor learning: hat, leather gloves, jeans, sunscreen

A notebook and a pen/pencil for writing and drawing (optional)

A sturdy outdoor knife with a fixed blade (optional)
REGISTRATION
Sliding scale fee: $25 - $0, based upon your access to resources.
This class is a part of a 4-class series. There is a 20% discount for registering for the series. (See separate Series: Forage Wild Edibles with Confidence registration.)
Harvest Preserve and Backyard Abundance members receive a 10% discount.
EDUCATOR
Taught by Annie Ventullo, experienced teacher, skilled and proficient mycophile.
LOCATION
We meet at Harvest Preserve, 1645 N Scott Blvd, Iowa City.
COVID-19
The event is held outside. Masks are optional. We will try to maintain 6' distancing.
SPONSORS AND PARTNERS
This class was developed in collaboration with many community partners using grant funding from the Johnson County Community Foundation and the Roy A. Hunt Foundation. It would not be possible without these sponsors and supporters. Please frequent these generous organizations to thank them for donations of time, materials and funds.