Summer Chamber Music Tour - AABCS Quintet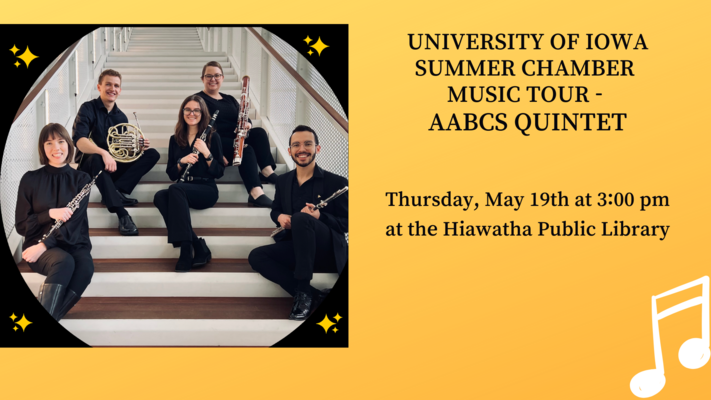 Event Description
Join us for an afternoon of Music in the Library.
The AABCS Quintet is comprised of Caleb J. Estrada-Valentín, pursing a Masters degree in Flute Performance, Amelia Johnson, pursing Bachelors degrees in Oboe Performance and Art History, Adelaine Horan, pursuing Bachelors degrees in Clarinet Performance and Music Education, Benjamin Makins, pursing a Bachelors degree in Horn Performance, and Sara Remoy, pursuing a Doctoral degree in Bassoon Performance and Pedagogy.
Hailing from across the US, the wind quintet began playing together at the start of 2022 while pursuing their degrees at the University of Iowa. They have had the honor of
being coached by a variety of groups, including members of the Jupiter Quartet and the Castilian Quartet, as well as performing on tour with the University of Iowa Symphony Band. The AABCS Quintet is proudly coached by Dr. Courtney Miller.