Hercules Haven Open Barn Day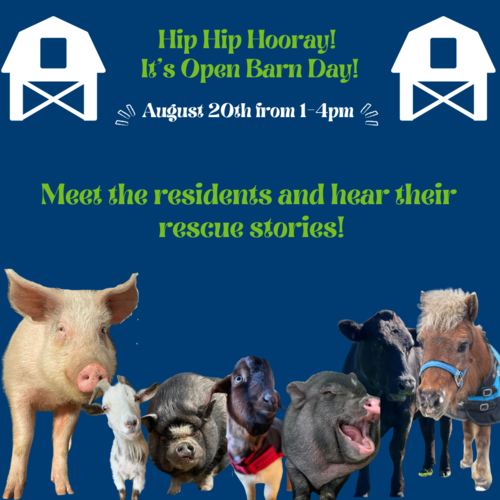 2022-06-14 16:00:00 -0500
Details

8/20/22
1 p.m. to 4p.m. -
$5 – $10
All Ages
Categories

Family Friendly
Event Description
Join Hercules Haven for Open Barn Day August 20th from 1-4pm!
Come on out and meet the residents and hear their rescue stories.
Bring a blanket and pack a plant-based picnic lunch. Explore the property, relax, and renew.
The Haven is a smoke free facility. Wash your hands frequently and especially after touching a resident. Please, keep your pets at home when you visit the Sanctuary. They can add extra chaos to already busy days. Please only touch or pet residents that approach you and are interested in attention. Many residents have very traumatic pasts, and this is their home and safe space. We ask for a suggested donation of $10 for adults and $5 for children. Hercules' Haven is a registered 501(c)(3). We thank you for your support.