Outdoor Fundamentals: Movie Clips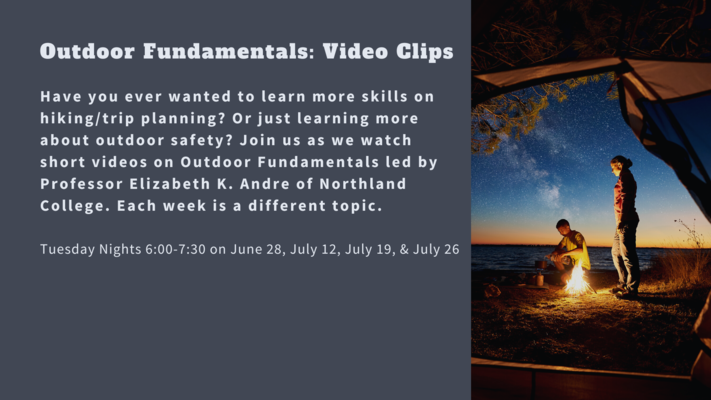 Event Description
Have you ever wanted to learn more skills on hiking/trip planning? Or just learning more about outdoor safety? Join us as we watch short videos on Outdoor Fundamentals.
Join us at the Hiawatha Public Library for Outdoor Fundamentals-Movie Nights.
These short episodes are Taught by Professor Elizabeth K. Andre of Northland College, and will give you the practical skills you need to set off for the water or the woods.
Each week we will watch 3 short episodes.
July 12: Clothing & Footwear for Outdoor Adventure; Basics for Wilderness Safety; and Introduction to Navigation
July 19: Assessing and Managing Risk in the Outdoors; Selecting a Campsite and Pitching Shelter; and Building a Campfire
July 26: Safe Drinking Water in the Wilderness; Outdoor Menu Planning & Cooking; and Minimizing Your Impact on the Wilderness