Ragged Blade Band Music Performance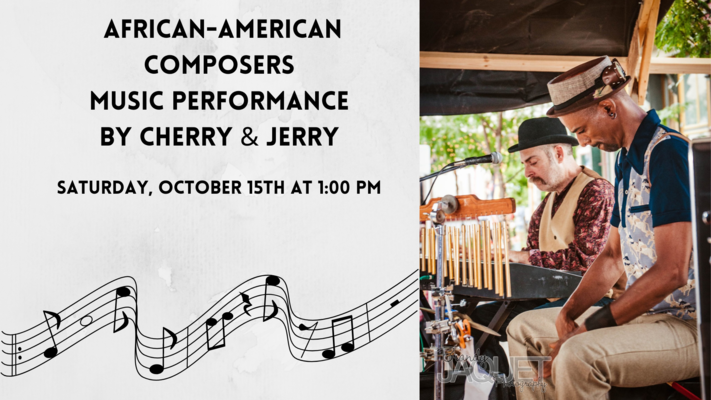 Event Description
African-American Composers
Black composers were on the forefront of American popular music; ragtime itself was the combination of African syncopation over a European march beat and formed the basis for the development of blues and jazz. Growing up as the children of former slaves, many black composers and musicians had to navigate – and even perpetuate – racism in popular entertainment as they grew their careers.
We'll look at composers such as Shelton Brooks and Scott Joplin, and also some leaders in their field such as W.C. Handy, "father of the blues," and Ernest Hogan, "father of ragtime," who was the first African-American to both produce and star in a Broadway show.
Cherry and Jerry's hour long program will feature ragtime, blues, jazz and Broadway. The duo presented "Hits of the Ragtime Era" at the Hiawatha Library earlier this year; let's welcome them back this October!
"Cherry & Jerry" is Isaac Cherry on percussion and Jerry Rabushka on piano; they focus mainly on music from 1900-1920: ragtime, early blues and jazz, and popular songs.
Based in St. Louis, Missouri, the duo is also part of the larger "Ragged Blade Band," and has toured music of the ragtime era throughout Missouri and regionally, appearing at baseball games, steampunk events, pubs and restaurants, special events, and more. In 2021, their African-American Composers presentation reached around the world as part of Black History Month in both Australia and England. They recently presented a ragtime history program at the Missouri History Museum. A typical performance includes some well-known songs of the early 20th century as well breathing life back into some rarely played tunes.