"Sold Out" - Morbid Curiosities & Mabbott Poe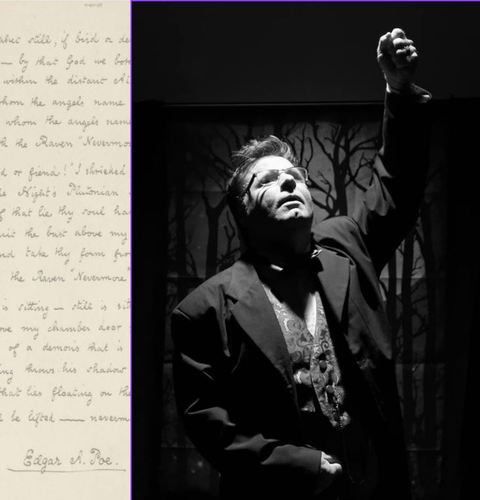 Event Description
**PLEASE NOTE: We are no longer accepting RSVPs for this event. All seats are full.**

The University of Iowa Libraries Special Collections & Archives is home to the Thomas Ollive Mabbott Papers, an intriguing collection of materials compiled by Mabbott, who was editor of the Collected Works of Edgar Allan Poe. The papers include sources and inspirations for Poe's work, first printings, and more.
See select items up close before meeting the master of Gothic horror himself, portrayed by storyteller Darrin Crow, in Morbid Curiosities – An Evening with Edgar Allan Poe. The 80-minute performance begins at 7 p.m. and features some of Poe's most beloved stories and poetry, including "The Masque of the Red Death," "The Raven," and "The Tell-Tale Heart."
Morbid Curiosities & Mabbott Poe
Monday, Oct. 10 at 6:30 p.m.
Main Library Gallery, University of Iowa Libraries
Learn more/parking: lib.uiowa.edu/gallery
Please RSVP here for this free event.
RSVP REQUIRED.
Presented by the University of Iowa Libraries Special Collections & Archives and the Main Library Gallery in partnership with the Iowa City Book Festival.
Individuals with disabilities are encouraged to attend all University of Iowa–sponsored events. If you are a person with a disability who requires a reasonable accommodation in order to participate in this program, please contact Sara Pinkham in advance at 319-467-1805 or sara-pinkham@uiowa.edu.