A Walk in the Past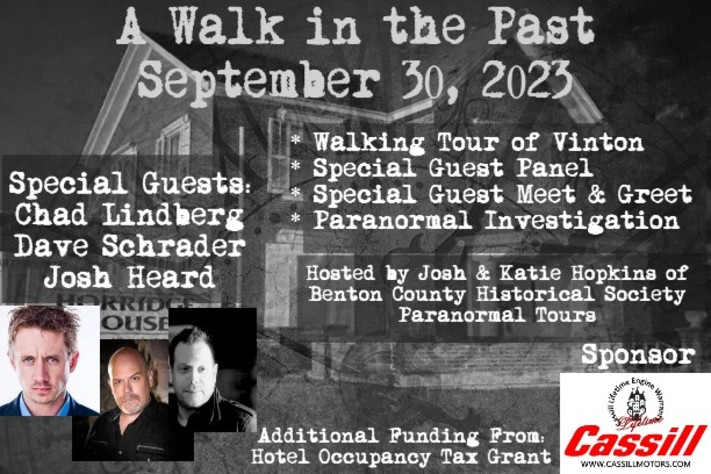 Event Description
This event is history and paranormal based. We first start with a historical walking tour of Vinton, that will include history about some of the most historic buildings in the town. We then will go to Tilford Elementary for a panel with our special guests and they will sell merchandise. Final stop is a paranormal investigation of the Horridge House and Old Lincoln School. We are working to provide one more location for the paranormal investigation that will be released at a later date.
Our special guest this year are Dave Schrader, Chad Lindberg and Josh Heard!
Chad Lindberg is a Human Being. Actor. Paranormal Enthusiast. He began his acting career as Rory in Black Circle Boys at the 1997 Sundance Film Festival. From there, he made several guest appearances on popular television shows, such as ER, Buffy the Vampire Slayer, and The X-Files. He continued pursuing films roles, particularly as Sherman O'Dell in October Sky and Jesse, in The Fast and the Furious. He is also known for his extremely likeable character, Ash on the TV Series Supernatural. Chad also was the co-host, alongside of John Tenney, of the show Ghost Stalkers on Destination America. Chad is a member of the G-Crew Show with co-hosts Nick Groff, Josh Heard, and Johnny Houser.
Dave Schrader is an experienced paranormal investigator and host of the popular paranormal podcast, The Paranormal 60 with Dave Schrader. You can also see Dave on Travel Channel & Discovery+'s hit TV series, The Holzer Files and Ghosts of Devil's Perch. You may also recognize Dave from his appearances on Paranormal State, Ghost Adventures, Ghost Adventures Screaming Room, Paranormal Challenge, Haunted Hospitals, Fright Club and in the ShockDocs; The Curse of Lizzie Borden & Demon in the White House. From an early age, Dave has been surrounded by the strange and anomalous, from haunted homes to creature sightings, UFO encounters and more. Dave invites you along on his journey and thanks you for taking him along on yours. Never a casual observer, Dave pushes claims of the paranormal to the limits by investigating them himself and visiting some of the most active and haunted locations in the world.
Josh is a paranormal author, lecturer, filmmaker, narrator, and investigator. Josh has loved all things paranormal since his first encounters when he was just entering adolescence. Josh has written six books and done 17 documentary films over the past few years. Josh is also one of the owners of Malvern Manor In Malvern, IA where he gives tours and does special events. Josh is also a member of the G Crew Show with co-hosts Nick Groff, Chad Lindberg, and Johnny Houser. Josh has been featured on Paranormal Lockdown, Destination Fear, and Haunting in the Heartland.