Opening Reception for Jon Fasanelli-Cawelti and Mauricio Lasansky Exhibitions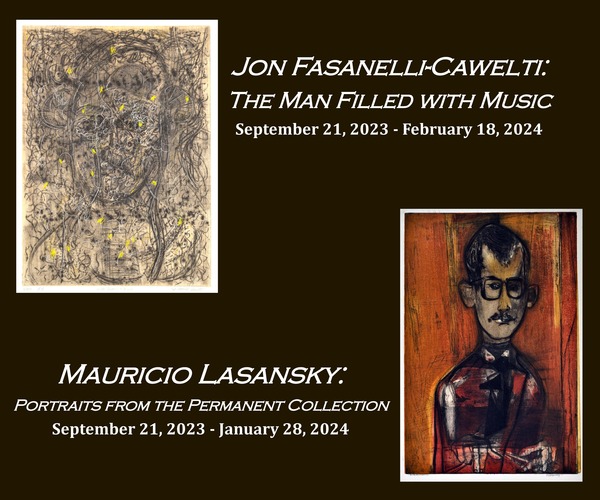 Event Description
In this first major exhibition of Fasanelli-Cawelti's work since his passing in 2021, the artist's love of music, playing the trumpet, and performing with the Muscatine Symphony Orchestra and Mad Creek Mudcats permeate into this body of work. A true Renaissance man, art, music, philosophy, literature, and history were part of his everyday life.
For more than fourteen years, Fasanelli-Cawelti served as assistant to the world renowned printmaker Mauricio Lasansky. A selection of Lasansky's portraits from the permanent collection will be on view on the second floor of the gallery from September 21, 2023 through January 28, 2024.
Reception - Sunday, September 24th, 1:30 to 4:30 p.m.
Music by Bill Anson (1:30 - 3:00 p.m.) & the Mad Creek Mudcats (3:30 - 4:30 p.m.)
Free Admission