Active Allyship and Creating a Welcoming Environment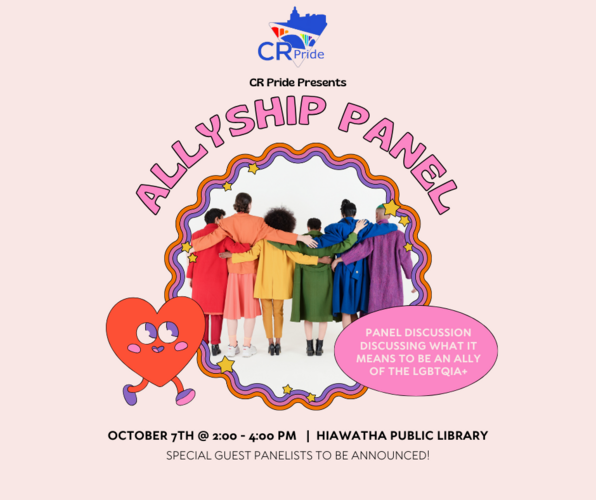 Event Description
National Coming Out Day is on October 11! Join CR Pride as we discuss how government agencies, non profits, and religious institutions are creating and maintaining a welcoming environment. We are happy to welcome:
Elizabeth Buch, with the City of Cedar Rapids
Lori Ampey with Tanager's LGBT Youth Center
Catherine VanDraska with Big Brother Big Sisters
Gary Sneller with Marion Affirming Churches
Ben Roberson with Community Law Office
Susan Liddell, CR Pride Vice President
Our event will be moderated by the wonderful Molly Monk. We hope you will join us to hear and learn about these organizations and how we can all work to create welcoming environments. Ben will also provide an update on the latest local/state/federal laws impacting our community.
This event is free and open to the public. Monetary/candy donations will be accepted for our entry in the Halloween parade for those wishing to contribute.
Please email info@crprideia.com if you have any questions you would like our moderator to consider asking the panelists. We can't wait to see everyone at the event!