An Evening with Aprille Clarke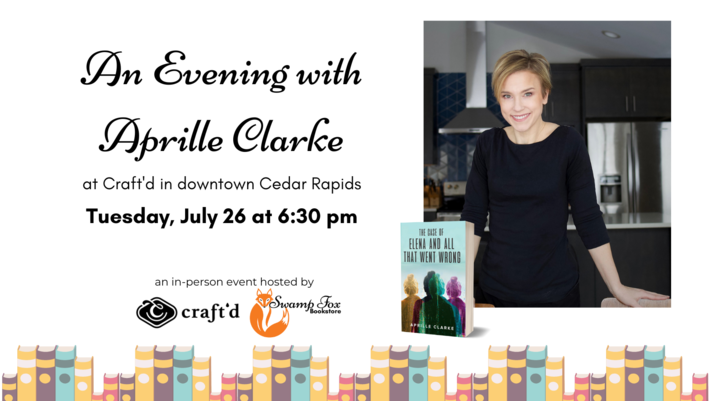 Event Description
Join us for an evening with local author Aprille Clarke to discuss her debut novel, The Case of Elena and All That Went Wrong. Learn more at https://swampfoxbookstore.com/aprille
About The Case of Elena and All That Went Wrong
What do a time-stopping office worker, a woman receiving a full body transplant, a visitor from the nineteenth century, and dead people preserved in ice trays have to do with each other? They all inhabit the weird, fantastic, and sometimes disturbing world of The Case of Elena and All That Went Wrong. Interlocking stories form a narrative that explores the nature of friendship, love, and identity with a paranormal twist.
About Aprille Clarke
Aprille Clarke's original fiction has appeared in Confrontation magazine and post-secondary textbooks for Heinle & Heinle/Thomson Learning. She has also written and produced many works of theater, music, and multimedia. Aprille holds a BA in Spanish from the University of Iowa and an MFA in Comparative Literature-Translation from the University of Iowa's Translation Workshop. She has worked as a translator, interpreter, teacher, instructional technology consultant, simulated patient, and has volunteered with community organizations. Aprille lives in Iowa City with her spouse and children.